Capt. SALİH ORAKCI
Born on 16 December 1964 at Refahiye district of Erzincan province; Capt. Orakcı was graduated from Turkish Merchant Marine Academy in 1986. After his graduation he started his professional life in 1986 at Turkish Cargo Lines as officer, and subsequently as chief mate and master, onboard various ships until 2000. Capt. Orakcı completed his military service in 1988.  His work at DGCS started on 23 March 2001 as an expert where he was later assigned  as General Manager and Chairman of the Board in 27 September 2005. Capt. Orakcı is fluent in English language.  
SeaNews: Dear Capt. Orakcı, This issue of SeaNews magazine focusses on maritime safety services. In this context, the first organization that comes to mind in Turkey is, no doubt, the Directorate General of Coastal Safety (DGCS). Can you tell us more about your organization, and the services you provide with regard to maritime safety?Capt. Salih Orakcı:
 Established in 1997, DGCS provides search and rescue, salvage, Turkish Straits Vessel Traffic Services , pilotage , towage , marine aids to navigation and communication services  on a 24/7 basis with the main objective of enhancing the safety of navigation at sea.
When first established, our  activities were confined   to providing navigational aids to ships, life-saving and rescue operations but with time more services were added. In 2003, the Turkish Straits Vessel Traffic Services (VTS), in 2005, Maritime Communication Services (Turkish Radio) and finally in 2010, Turkish Straits, İstanbul and İzmir ports pilotage and towage were included in our services. Combining all of these under the same umbrella enables more effective coordination and integrity of services provided.  The dynamic nature of today's DGCS has been instrumental in achieving this.
SeaNews:  On our news sites, almost every day a new near miss or technical failure of ships is reported. Fortunately, these have not resulted   in any major accidents so far.  What is the current situation in the Turkish Straits with regard to maritime safety? What is your organization's role in preventing such accidents? Is it a result of the DGCS efforts that these incidents have not resulted in major accidents? What are the preventive measures that your organization takes?Capt. Salih Orakcı:
 Looking at the Straits' passage statistics, we can see that, on an average every 40 hours  a ship creates a risk with a rudder or engine failure during passage. Thanks to various measures that have been taken so far, there have not been any fatal accidents or marine pollution.  However this does not mean that such an accident could never take place in the future.
The latest technology, the right investments and well trained personnel are all factors which are of paramount importance in the prevention of accidents. However, it is equally important that, starting from the shipmaster, to the ship agent and ship owner, all the stakeholders involved in maritime trade, should show the same sensitivity and give their best to minimize human errors. 
Our organization, inspired by our motto "Your Safety is Our Priority", has achieved a significant decline in accidents with the help of effectively managed investments and the right projects. However, in spite of advanced technology to save life, property and environment, accidents could still happen and will continue to happen.  "Human error" plays a major role in marine accidents with a rate as high as 83 %. Training and experience-sharing are extremely important in order to decrease this rate to the lowest possible level.
We attach great importance to this issue and with our responsibility as a coastal state, we are taking all measures necessary to enhance maritime safety such as VTS, Pilotage and aids to navigation.
We strongly recommend all ships to take a pilot in the Turkish Straits, but unfortunately only 40% of all passing ships make use of this important safety measure.  
We invest in safety in the Straits, but, as long as shipmasters do not make use of the Pilotage services made available to them, accidents will continue to happen. 
We encourage ship masters to give us timely and accurate information in the case of a failure, use our safety services in case of a technical failure, escort tugs when necessary and most importantly use the pilotage services for every passage through the straits. Thus, in case of a failure in the Turkish Straits, our pilots can intervene as soon as possible in order to prevent the incident from becoming an accident.

SeaNews: By 2014, along with the improvement of the world economy, maritime transport is expected to rise again. In this context, what are your preparations to meet the safety demands required by the possible increase of maritime traffic in the Turkish Straits?Capt. Salih Orakcı:
Since we took office, it has been our constant endeavor    to empower the principle of "Maritime people, maritime nation" and we will continue to work on this. Irrespective of increase in ship traffic, we will not compromise on the safety of navigation in the Turkish Straits.
With the effective use of public resources and our dedication to improve the safety of navigation, our organization plans a number of investment projects to fulfill the above motto. 
For example, we have a wide range of investment projects, some of which are underway and some completed. Some of these investment projects are : the Fi-Fi 3 Class ERV vessel "Nene Hatun", powerful and maneuverable  tugboats  of Fi Fi 2 standards with a water cannon capacity of 7,200 cubic meters per hour, SAR boats capable of operating  at all kinds of weather and sea conditions, pilot boats and the modernization of technological systems.
Recently; we took delivery of our newly built emergency response vessel "Seyit Onbaşı", which is the first of its kind in Turkey and in the surrounding regions.  And I also want to emphasize with pride that all these projects are being completed at Turkish Shipyards using domestic resources, with the objective of supporting our shipping and maritime industry.
Another project which our Ministry plans to complete very soon is the "Vessel Traffic Management System". Turkey will be the first country to establish this system in full conformity with the IALA definition. 
This project will consist of 3 separate Vessel Traffic Services which will be setup at Izmir, Mersin and Iskenderun bays and the center   of the project will be located in Ankara where all the vessel movements within Turkish territorial waters will be collected. Data will then be evaluated and distributed to related parties. through a comprehensive data processing center. 
The main objective of this project is to collect, consolidate, analyze and distribute all information related to maritime traffic that is needed by public or private parties. This will enhance the safety and security and improve productivity of the maritime traffic within Turkish territorial waters as well as protect the environment. 
 Within the context of maritime safety; navigational aids can now be remotely monitored and controlled.  Data sharing is possible between the centers through our "AIS ATON "(SOTAS) project and this further enables us to immediately intervene in case of a malfunction. 
Also, we are able to monitor ships from longer distances with the Long Range Identification and Tracking System (LRIT).Using this system which provides us safety communications, our organization can also, automatically monitor and query ships up to a distance of 1000 miles. 
With all these technological innovations, have been able to not only monitor  surrounding seas but also remote sea areas on a 24/7 basis and with our continued focus  on  maritime safety we now occupy a  dominant position in the international maritime field.
I have to say that indeed we owe  all of these achievements to Mr. Binali Yıldırım, Minister of Transport, Maritime and Communications; who has been leading the way for us with his vision. 
SeaNews: As the biggest maritime safety agency of Turkey, what are your contributions to national/international studies aimed at improving maritime safety? Could you briefly tell us the current status in terms of membership and participation in national/international activities? In this regard, what was your organization's contribution in the 11th Transportation, Maritime Affairs and Communications Forum?Capt. Salih Orakcı:
The Director General of Coastal Safety, has membership in a number of International organizations such as IMO, ISU, IALA, ITU and PIANC and actively participates in all meetings of these organizations.
Besides our participation in meetings, we also host some of them. In 2012, the International Association of Marine Aids to Navigation and Lighthouse Authority(IALA), organized its VTS Symposium in Istanbul;  under the auspices of Mr. Binali Yıldırım, Minister of Transport, Maritime Affairs and Communications, and was hosted by our organization.    We are proud to have hosted this event in which more than 400 guests from 41 countries attended.
Through these successful activities, our country has become an important player in the international maritime community. Such organizations are important for the promotion of our country and creating awareness  about our prowess in the maritime sector to the international communityThe 11th Transportation, Maritime Affairs and Communications Forum was held at the Istanbul Congress Center,  between the 5th  and 7th of September The event   lasted for three days and on the first day,  there was a round-table meeting where guest ministers discussed the possibilities for cooperation . On the second and third days, industry representatives and experts gathered in 7 parallel sessions dealing with road, rail , marine, aviation, space technology, telecommunications, urban transport and pipelines, where the vision for  Turkey in the year 2035  was discussed through presentations. The current status and   the year2023 objectives were evaluated and guided by the knowledge and experience of professionals. The roadmap until the year 2035 will be laid out from this which will shed light on Turkey's transport and communications policies. The results will also be the source of reference for "Strategy Papers" in the future. Our organization actively supported this forum which had participation from over 5000 people.
Turkish Straits VTS Center in Istanbul
SeaNews: Directorate General of Coastal Safety recently acquired the Pilotage Services in the Turkish Straits and has now become the largest Pilotage Organization of Turkey. What kind of improvements were made to these services after integration to DGCS? How is the situation today in the Turkish Straits with regard to pilotage services? Have the number of ships using pilots reached an optimum level?  Is there a way to improve this rate?Capt. Salih Orakcı:
When the pilotage services of TDI was transferred to our organization; we conducted a study on what improvements could be made.   In the first phase, we have resolved the transportation issues, which can cause delays in the service. In 2010, the year in which the transfer took place, we completed the construction of two pilot boats and brought them into service. In addition, we have begun research on how to improve capabilities and performance of the pilot boats. We have also begun the construction of 4 new pilot boats in our investment program and they are expected to be completed by 2014. The personal protective equipment of our pilots, including life jackets have been replaced with new ones. For the first time in our history, a manned model training program has been implemented and the first groups of pilots have been sent to France as part of this program. Staff shortcomings have been fixed.  A project to convert all our documentation into a more modern electronic format has been started.
The Çanakkale Mehmetçik Pilot Station, located at the Southern end of Gallipoli Peninsula, was damaged by an earthquake when transferred to our organization. We provided temporary housing facilities for the safety of the pilots and crew at this station; and later completed the work to rebuild the Pilot Station as a sample project. The Pilot Station is now a modern building built in the style of the region which is steeped in history. As it is   a protected area, we had to complete all the necessary legal procedures in order to initiate the construction.
In general, the number of ships that are using pilots for their passage is not acceptable. Despite the strong recommendation made by IMO to all ships to use pilots, the rate is just 40 percent. In order to increase the safety of navigation, life and property, this rate needs to rise. According to 1936 Montreux Convention, pilotage remains optional for vessels that are directly passing through the Straits without a stopover. However, in accordance with our national policy concerning maritime safety, irrespective of the length or cargo, we recommend all ships to use the services of a pilot while passing through the Turkish Straits.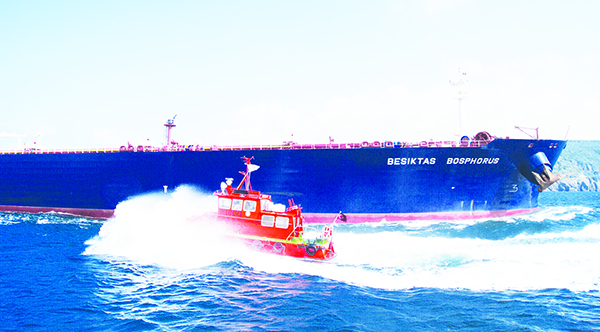 SeaNews:  The challenge posed by the tanker traffic passing through the Turkish Straits has been an issue of concern; but the challenge continues for the citizens of Istanbul. How would you evaluate the current risk at the Straits, can we talk about an acceptable level?Capt. Salih Orakcı:
By using pilots, escort tugboats and interacting with VTS, the risk of an accident posed by a ship passing through the Straits can be significantly reduced but can never be thoroughly eliminated. Therefore, unless the Straits are totally closed to ship traffic, the risk of an accident will remain. Our goal is to minimize this risk to the lowest possible level and in case of an accident to intervene as soon as possible in order to minimize the impacts and losses. For this reason, we recommend all ships to be technically in full conformity with the Turkish Straits Regulations, give necessary reports in time, strictly comply with the warnings, recommendations and instructions of the VTS, and use the services of a pilot to pass through these difficult waterways.
Under the leadership and support of our minister, the efforts to enhance the safety of navigation and protection of marine environment has continued and the percentage of ships using pilots has improved. 
As previously stated, pilotage is a major factor that enhances the safety of navigation. Looking at the statistics, in the years of 2011 and 2012, all tankers over 200 meters and 98% of tankers over 150 meters used pilots in the Strait of Istanbul. 
SeaNews:  The accident involving the "Costa Concordia" has revealed that we have not yet reached an optimum level in maritime safety. What would your suggestions be in order to improve maritime safety in the world? What are the shortcomings that must be addressed with respect to maritime safety in Turkey? What is being done to improve the safety culture and what more can be done?Capt. Salih Orakcı:
Despite the fact that we as a coastal state take all possible safety measures and make use of the latest technology, accidents still occur and will occur in the future.Why does this happen?? 
Basically, there is no system to reduce the risk of accident to zero in any waterway in the world. What causes accidents? Why does the risk of an accident exist and continue to exist? Why do accidents continue to occur?This issue is not just confined to technological developments but also because of the human element In fact, the risk of an error exists at any place depending on the human element and in practice this risk can not be reduced to zero but can only be minimized. Human error is responsible in 83% of all accidents. Out of this fatigue appears to have the greatest share. 
For example, when we look at the "Costa Concordia" (32 deaths). It is possible to see a series of human errors in which, professional experience, knowledge and diligence failed. In my opinion, STCW certification has its own importance but, another important factor which cannot be ignored is prudent seamanship. 
Of course, every accident needs to be analyzed in order to learn from it. This is the way to achieve a safety culture which will prevent further losses.  Maritime transport is a transport mode which has no alternative. That leaves us with no other option but to minimize the accidents. . A vessel navigating at sea has many stakeholders, such as the Flag State , Port State , Coastal State , Owner / Charterer , Operator , Cargo owner, Crew, Passengers , Port of calls , Classification Societies etc.  I think that risk perception and risk prevention are an important part of risk management. 
I call this as 'PPM' which means Perception - Prevention -Management. The perception of risk is not only connected to the Governments but also individuals. Perception of the risk by the individuals is the first step, then comes risk management and taking appropriate measures But in the past, risk management was used only after an accident. I think all of us need to be more proactive regarding this issue. 
SeaNews: This interview will be published in our fourth issue. If you have taken a look at our magazine, would you share your comments with us? And, would you like to add anything?Capt. Salih Orakcı:
I have read your magazine and I would like to congratulate all your editors for their excellent work. Your outstanding publication provides accurate, complete and impartial news and articles to our people and to the maritime sector.  I wish you continued success. Director General of Coastal Safety with the support of the Ministry and all stakeholders will continue to grow steadily in line with economic and social requirements. As always, we will continue to serve the public.
Finally, when we look at the accidents in the world, we can see that after each major accident, the International Maritime Organization adopts new rules and regulations. This has been the trend from when the Titanic sunk till now  I believe that it is better to be proactive and take action instead of waiting for a new accident and subsequent regulations.