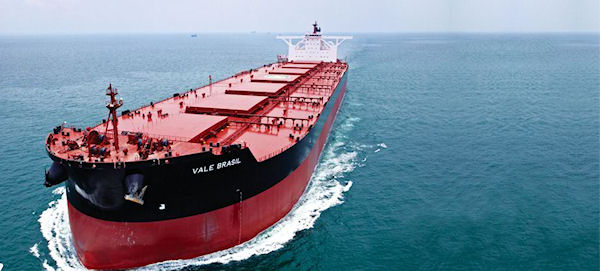 The world's largest ore carrier, Vale Brasil, was loaded for the first time (Tuesday, May 24) at Pier I at Ponta da Madeira Port Terminal (TPPM) in São Luís, Maranhão. The ship, which was loaded with 391,000 tons of iron ore, will now sail for Asia.
Vale Brasil is the latest milestone in Vale's long history of investment in infrastructure, a key element for the competitiveness of Brazilian iron ore on the international market. "We don't stop investing and innovating. Vale's investments in infrastructure are the biggest ever made in the country, resulting in efficient logistics for our customers.
We invested US$9 billion over the last six years and, in 2011 alone, a further US$5 billion will be invested in the integrated mine-railroad-port-shipping chain," explained Integrated Operations executive director, Eduardo Bartolomeo. Vale Brasil was ordered by Vale from Daewoo Shipbuilding & Marine Engineering Co in South Korea. It is the biggest ore carrier in the world, with a 400,000-ton capacity, 362-meter length and 65-meter width. Vale Brasil is the first of seven ore carriers ordered by Vale from the South Korean shipyard, totaling an investment of US$748 million.
Interesting Facts
The Vale Brasil is the longest ore carrier that has been created with dimensions of 362 metres lengthwise, 65 metres width wise and 56 metres height wise. Comparing its length horizontally, it can be seen that it measures more than the Eiffel Towers of Paris – the Paris monument stands at 324 metres vertically. Considering the huge size of the ship, there is just one port from where the ship can load – the Ponta da Madeira (PDM) port. The speed of the Vale Brasil is around 15 knots while the engine capacity of the ship is 25,000 Kilo Watts (KW). The ship referred as a logistics solution to the ore transportation supplies from South America to Asia.