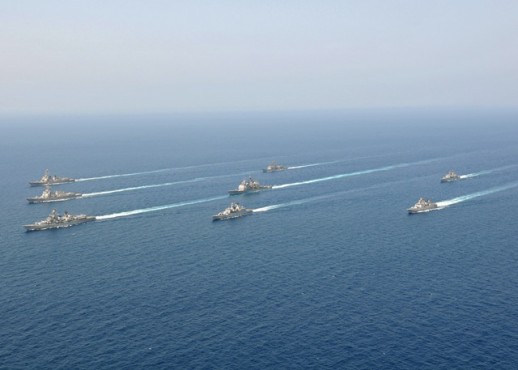 n sign of Jerusalem's deteriorating ties with Ankara, Turkish military refuses to participate in joint exercise for 2nd straight year.
Israel and the United States started their annual joint naval exercises in the Mediterranean Sea this week again without the participation of the Turkish navy, in another sign of Jerusalem's deteriorating ties with Ankara.
Called Reliant Mermaid, the annual exercise was started over a decade ago and included the Israeli, Turkish and American navies. The objective of the exercise is to practice search-and-rescue operations and to familiarize each navy with international partners who also operate in the Mediterranean Sea.
The exercise was last held with all three partners in the summer of 2009 but following the Israeli navy raid on the Mavi Marmara last May, Turkey pulled out of the 2010 drill.
The IDF had expected Turkey would not participate this year as well.
While Israel's ties with Turkey have suffered since the raid, there are growing calls within the defense establishment to attempt to repair them even at the price of issuing a formal apology. IDF Chief of General Staff Lt.-Gen. Benny Gantz said earlier this week the IDF would not oppose a government initiative to apologize to Turkey.
Defense Minister Ehud Barak and Foreign Minister Avigdor Lieberman are at odds, for example, over whether Israel should renew defense exports to Turkey, which largely came to a standstill after ties between the countries deteriorated following Operation Cast Lead in the Gaza Strip in 2009.
Until the operation and the flotilla, the IDF had held frequent training exercises with the Turkish military and regularly flew aircraft over Turkish airspace.
Israel has however found a new ally in Greece, which has replaced Turkey as a key partner for the IDF in exercises. Last week, the Israeli and Greek navies held a joint exercise in the Aegean Sea and practiced rescuing victims from a mock damaged ship.
Greece has also participated in joint Israeli-US exercises.
Last April, Greece participated in an anti-submarine warfare exercise with the Israel Navy and ships from the US Navy's 6th Fleet. Last month, the Israeli and Hellenic air forces held joint maneuvers, and the Greek air force commander visited Israel in May for talks with IAF commander Maj.-Gen. Ido Nehushtan.