Bangladesh to Become One of Leading Players in Shipbuilding Industry
With two established players, Ananda and Western Marine, partly booked for the next two years, the buyers are looking for potential new maker.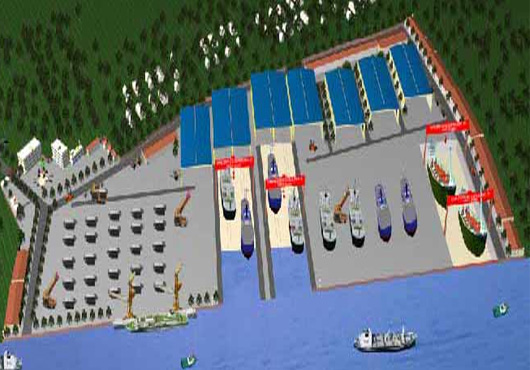 Bangladesh,Shipbuilding

With two established players, Ananda and Western Marine, partly booked for the next two years, the buyers are looking for potential new makers who are capable of doing the job in time and in budget prices.
"Bangladesh shipbuilders haven't seen such a huge attention from global ship owners before," said C.F Zaman, ex-chief of German-based technical and class certification firm, Germanischer Lloyd.
"Every week we see officials of new companies arriving in the country. They are seeking to place orders worth hundreds of millions of dollars," Zaman, who advises several firms, told the FE. Zaman said the better-than-expected performance of Western Marine and Ananda have raised Bangladesh's profile as a new ship building destination of the world. In recent months, the two shipbuilders have delivered eight ocean going ships to buyers from Western Europe. "They executed the orders in time. The price was competitive," he said.
Among the newcomers who have hogged the limelight is Meghnaghat-based new shipbuilder Khan Brothers. "Four foreign shipping firms have visited my company recently. They want to build vessels and dredgers here," head of Khan Brothers, Tofayel Kabir Khan, told the FE. "We are still negotiating on prices and the time-frame for executing the orders. We hope we can seal contracts very shortly," he added.
US-based dredging company, Ellicott Dredges, is negotiating with another local vessel maker to place orders for seven dredgers worth Tk 7.50 billion, said the owner of the emerging firm.
"Since Bangladesh government has undertaken major river dredging schemes, the US company sees the country as a potential destination for dredger supply," he added, speaking on condition of anonymity.
Ellicott Dredges is one of the oldest dredging companies in the world, operating in 80 countries and selling over 1,500 dredgers since 1886. It has sold dredging equipment to governments, municipalities, contractors, port authorities, and marina operators for over 125 years.
Top Indian private power producer Jindal Group is looking for a Bangladeshi shipmaker to build 34 vessels for carrying coal for its thermal power stations in the South Asian country, said another shipbuilder. "After a couple of discussions, Jindal now says it was considering placing orders to Bangladesh. We are hopeful of getting a big chunk of the orders," he said, requesting anonymity as he is yet to sign a deal. The shipmaker said his company is now at the final stage of negotiation with German shipping company Phoenix Reederei, which seeks to build eight ocean-going vessels, each weighing 5500 dead weight tonnes (DWT). "Total value of the order is $90 million. The order could be signed anytime in the next few months," he added.
Singaporean state-owned shipping line, ST International, is also searching a best Bangladeshi shipyard to place orders for making medium-sized vessels, officials said.
Western Marine has, meanwhile, held talks with a Dubai-based oil rig supplier to make specialised vessels for the company. Sources said if signed, it would be one of the largest export orders for the country.
Abdullahel Bari, chairman of Ananda Shipyard, who played a pioneering role in making the country as an ocean-going shipmaking destination, is not surprised. "As we have already proved our capacity, many foreign companies are now scrambling to place orders to Bangladeshi shipmakers," he told the FE "See the volume of recent visits by foreign buyers. This trend means our ship building is on course to emerge as leading export sector of the country," he said.
Bari, a Britain-trained naval architect, said Bangladesh would be a global player in shipbuilding by 2015, grabbing at least one per cent of US$400 billion worth of world ship markets.
Bangladeshi shipmakers have so far bagged nearly $700 million worth of orders from foreign shipping firms since Ananda received the first order in 2007. They have exported nearly $100 million worth of vessels till June 2011.
Zaman said growing cost of ship making in the familiar destinations such as Japan, South Korea, Vietnam and China are driving foreign buyers to Bangladesh. "Far eastern nations including China and Korea are no longer interested to make smaller ships, especially those below 20,000dwt capacity," he said. "In addition, the quality of the ships made here has proved to be world standard. We also offer cheap prices than most other countries," he added.
This news 18880 hits received.