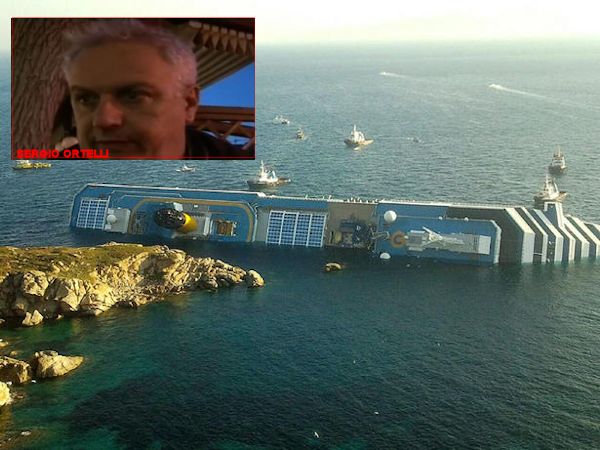 The Mayor: "The greeting is not a practice" but thanked the commander in August
Controversy is an email in which the mayor wrote: "Thanks for the show, is an indispensable tradition"  "It is definitely a practice, and my words were addressed to the commander of the Concordia, Calisto Massimo Garbarino, sailing on August 9, he had made ​​a gift to the tourists, safely, and perhaps he also wanted to greet an old Commander of the Coast. " 
So the mayor of the island of Giglio,  Sergio Ortelli, answers about e-mail sent to those who drove the ship on that occasion and that he had greeted with sirens passing near the island. "Do not I feel bound from sending a message of appreciation on behalf of our entire community, including tourists guests, honored by this important event. " 
So wrote the mayor Sergio Ortelli August 9 last year to the then commander of the Concordia Massimo Garbarino Callisto. 
The email was posted on Lily News. "We have witnessed a unique spectacle of its kind, has become an indispensable tradition of which I am honored and that is why I do interpreter personal thanks to you and asking her to extend her crew our gratitude also to the Costa Crociere, which rewards for years now in this way between the island's most beautiful views of the islands national. " 
"It is definitely a practice - the mayor reiterated today - nor is it a greeting scheduled. Sometimes commanders have made ​​it the Costa also honor their colleague retired teacher of the commanders of the Coast, who lives six months a year here. But always in a safe and secure, however at this time there is. " replied the mayor, after a few days, the commander Garbarino: "It is now the second time that I make the passage across the island of Giglio in August the Costa Concordia. It was a wonderful experience three years ago and was just as exciting this year - wrote the commander -. Last night, passing in front of the harbor, I could see the thousands of flashbulbs, and you can also see the many tourists who witnessed the passage. " The message ended with a thank you for "advertised the event on Lily News" and the hope "that it may become for us on board, a tradition to continue."