Mega ship flow study shows Asia-Europe trade to tip supply-demand balance
SUSTAINED cargo volumes on the Asia-Europe trade were being largely absorbed by the current fleet and the ongoing ultra large containership deliveries. Newbuilds of 14,000-21,000 TEU would continue to enter the Asia-Europe market throughout the summer.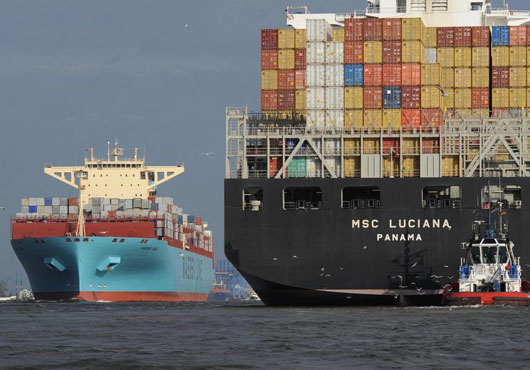 10 August 2017 - 20:00 - Update: 12 August 2017 - 08:21

However, Alphaliner warned that the steady flow of ultra-large vessels into service at the rate of one per week will continue to put pressure on the supply-demand balance.



During the first half of the year, 26 ships of more than 14,000 TEU were delivered, and a further dozen newbuildings of this size are expected to join the containership fleet at a rate of at least one a week before the annual low season begins in October, IHS Media reported.



Fortunately for carriers, the onslaught of very large and ultra large ship deliveries coincided with a cargo rally and the onset of the peak season just as the new east-west carrier alliances were being launched in April.



Service contracts on Asia-Europe, settled at significantly higher levels than those negotiated in 2016, and more disciplined capacity management has ensured higher levels of profitability for container lines. Carriers on the trade are forecast to gain US$1.2 to $1.7 billion in higher rate levels for full-year 2017 versus 2015.



Spot rates were well above 2016 levels through the first half when carriers were waging a debilitating rate war. Even though the rate for shipping a TEU between Shanghai and North Europe rose 4.8 per cent to $963, and the rate to the Mediterranean was up 3.6 per cent to $883. Year on year, the rate to North Europe is down 14.4 per cent while that to the Mediterranean is 12.1 per cent lower.



The improved cargo market has emboldened carriers to bring forward the delivery of large ships that had initially been deferred back when the trade outlook for 2017 still looked gloomy.



Carriers and shipowners have also frozen scrapping decisions since April, although some of this can be attributed to the postponement until 2019 of the enforcement of the Ballast Water Management convention that has removed a powerful incentive to scrap some mid-aged ships.



While containership demand has been resilient so far this year, it has not been strong enough to overcome the supply overhang that continues to weigh down on charter rates.



Alphaliner said current rates are only profitable for those non-operating owners that bought tonnage at distressed prices from bankrupted or ailing companies. Owners that were carrying the full capital costs of newbuildings, especially those contracted at the peak of the market in 2005-08, were suffering massive losses.



"Non-operating owners continue to bear the brunt of the overcapacity and the current newbuilding overhang still delays a re-balancing of ship supply and demand," Alphaliner noted. "Even a relatively robust vessel demand in the coming months, with only a mild retreat for the winter slack season, will not prevent a rise in idle capacity."
This news 3510 hits received.