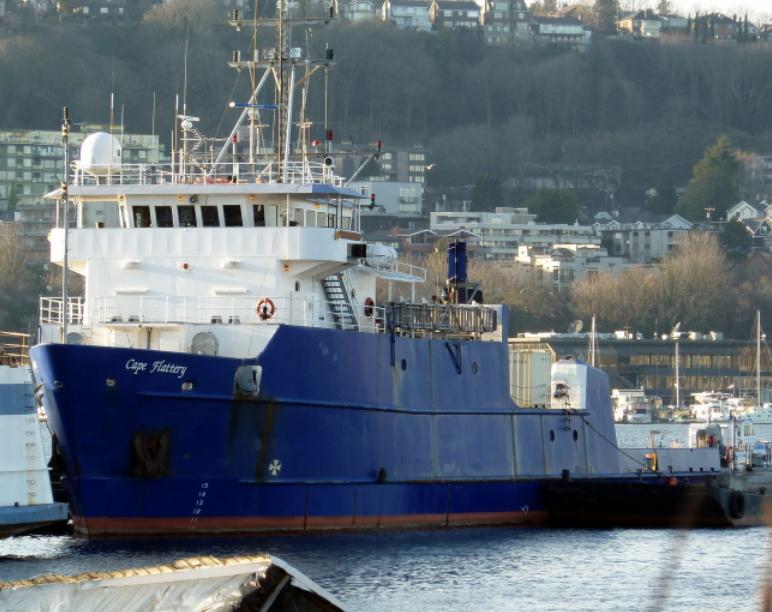 Marcon reports the sale of the U.S. flag research vessel, "Cape Flattery" from Tanadgusix Corporation (TDX), an Alaska Native village corporation out of Anchorage, to U.S. Seafoods, a fishing and marketing company based in Seattle, Washington and operating off the coast of Alaska.
The sale was on private terms. The 186′ x 40′x 16′ vessel was originally built in 1990 by McDermott Shipyards in Morgan City, Louisiana for the U.S. Navy as the torpedo trials vessel "YTT-9" for reportedly around $38 million.
The hull design came from an oil supply vessel with an ABS ice rated hull, and was therefore heavily built with 1/2″ hull plate below the main deck and 3/8″ above. "YTT-9" was the first of four sisters and came equipped with two 21 inch and three 12.75 inch torpedo tubes.
"Cape Flattery" was struck from the Naval Register in 1999 and subsequently sold to TDX who equipped the versatile vessel for diving and ROV operations, surveys, oil spill response, salvage and to generally operate as a research platform.
Accommodations were provided to berth a total of 40 crew and passengers. The vessel is classed with ABS and notated +A1, (E), +AMS. A five year Special Periodical Survey was passed in May of this year.
"Cape Flattery" is powered by a single 12 cylinder diesel turbocharged Cummins KTA 50 main engine developing 1,250BHP, which drives a 90″ x 74″ fixed pitch propeller via a Reintjes 7.05:1 gear. For station keeping, the vessel is equipped with joy-stick control, 300HP electric Ulstein azimuthing drives aft on each side of the main propeller and a 400HP omni-directional thruster forward.
Ship's auxiliary power is provided three Cummins 650kW diesel generators, with back-up provided via a Cummins powered 100kW emergency generator. Her working area consisted of a 46′ x 40' clear deck aft and 32′ x 30′ on the foc'stle deck in addition to enclosed work rooms.
An 11 ton and 2 ton knuckle boom hydraulic self-contained Appleton pedestal mount crane, 10T Fritz-Culver heavy-lift capstan aft and 10T anchor windlass were fitted. Four point mooring was provided by four single drum 10 ton pull Fritz Culver traction winches with two 3,700lb Navy style anchors forward and two 5,000lb Navy anchors aft allowing the vessel to moor in water depths from 30 – 2,400'.
Tank capacities included 68,000g fuel oil, 15,000g potable water, augmented by a 5,000gpd water maker, and 102,000g ballast water.
"Cape Flattery" was capable of operating for 42 days at sea with a range of about 4,000 nautical miles at an average operating speed of about 9-11 knots.
The vessel, already renamed "Seafreeze America", is being converted by U.S. Seafoods to fulfill her new role as a catcher/processor joining their fleet of four catcher-processors and two catcher vessels presently working in the Bering Sea, Aleutian Islands and the Gulf of Alaska. A 60' mid-body section is being added which will increase her to approximately 246' overall length.