Why shipping stocks could rise more due to forward contract rates
On August 30, Capesize forward contracts for the current quarter (July to September) stood at $18,300 a day—the highest since 2011.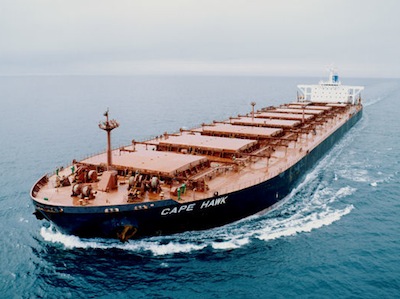 15 September 2013 - 21:10
What are forward contracts?
If there are shipping rates for today, then there's also the expectation of tomorrow's rates.
Companies use forward contracts to lock in the availability of resources in the future at a set price.
The dry bulk shipping industry—which transports key dry bulk materials such as iron ore, coal, and grain—is no exception to this practice.
When shipping companies negotiate the rates of shipping raw materials, they consider future expected supply and demand.
If the rate of renting a ship and service in a forward contract is higher than the current rate, it's often a positive indication that shipping rates will rise.
Higher shipping rates mean higher revenues, earnings, and free cash flows—and vice versa.
Forward contracts are rising together
On August 30, Capesize forward contracts for the current quarter (July to September) stood at $18,300 a day—the highest since 2011.
January to March 2014 contracts stood at $13,500 per day, and those of 2014 stood at $16,925. The broad increase in rates for all contracts suggests a long-term fundamental shift is taking hold within the dry bulk shipping industry.
Sometimes, you'll see specific contracts move apart from each other, which means specific catalysts are affecting that individual contract and that it's not an industry-wide driver affecting movements in forward rates.
Forward contracts likely underpriced
Plus, forward contracts often price lower than what true rates will be in the future. This is because people are short-term thinkers and often anchor future rates to current rates. So current 2014 forward rates are likely priced below what rates could be in 2014. As the CEO of Golden Ocean Group recently said, current forward rates could see as much as 30% upside from now.
With current rates at $17,000, Capesize rates could average above $20,000 a day in 2014. Possible reversal of 2011In our previous articles, we've used data from SSY (Simpson Spence and Young) to show that if forward rates one and two years in the future continue to rise along with near-term rates, we can expect a dry bulk shipping recovery to take hold and share prices to rise.
Unfortunately, that data is now discontinued. Forward rates farther into the future priced lower than nearer-term rates before 2011, as the market foresaw that excess supply would be delivered.
A possible reversal of that trend is occurring, with the nearer-term rates dragging and pushing future forward contracts up.
Second stage recovery
We can classify the recovery we're seeing now as second stage recovery, when the market realizes that the worst for the shipping industry is pretty much over and that fundamentals are improving.
Stocks often bounce when the market realizes the worst is over. Sometimes, they're just 20%. Other times, they can be 80%. Investors may be afraid of getting into these stocks after they've gone through such rapid rise.
In the short term, reluctant investors can be right, as short-term weaknesses shake traders and investors out to sell. But over the long term, share prices will continue to rise and perform well as companies' fundamentals improve further in the second stage of recovery.
Expect share prices to rise higherWith one of the lowest new deliveries in years to be expected in 2014 (as long as world demand for dry bulks doesn't collapse), we should continue to see dry bulk shipping stocks such as DryShips Inc. (DRYS), Diana Shipping Inc. (DSX), Safe Bulkers Inc. (SB), Navios Maritime Partners LP (NMM), and Navios Maritime Holdings Inc. (NM) rise.
This news 9124 hits received.