UZMAR Delivered Most Powerful Push-Boats
Delivery of World's most powerful diesel electric triple z-drive shallow draft push boats: An Innovative solution for the future of inland waterway transport logistics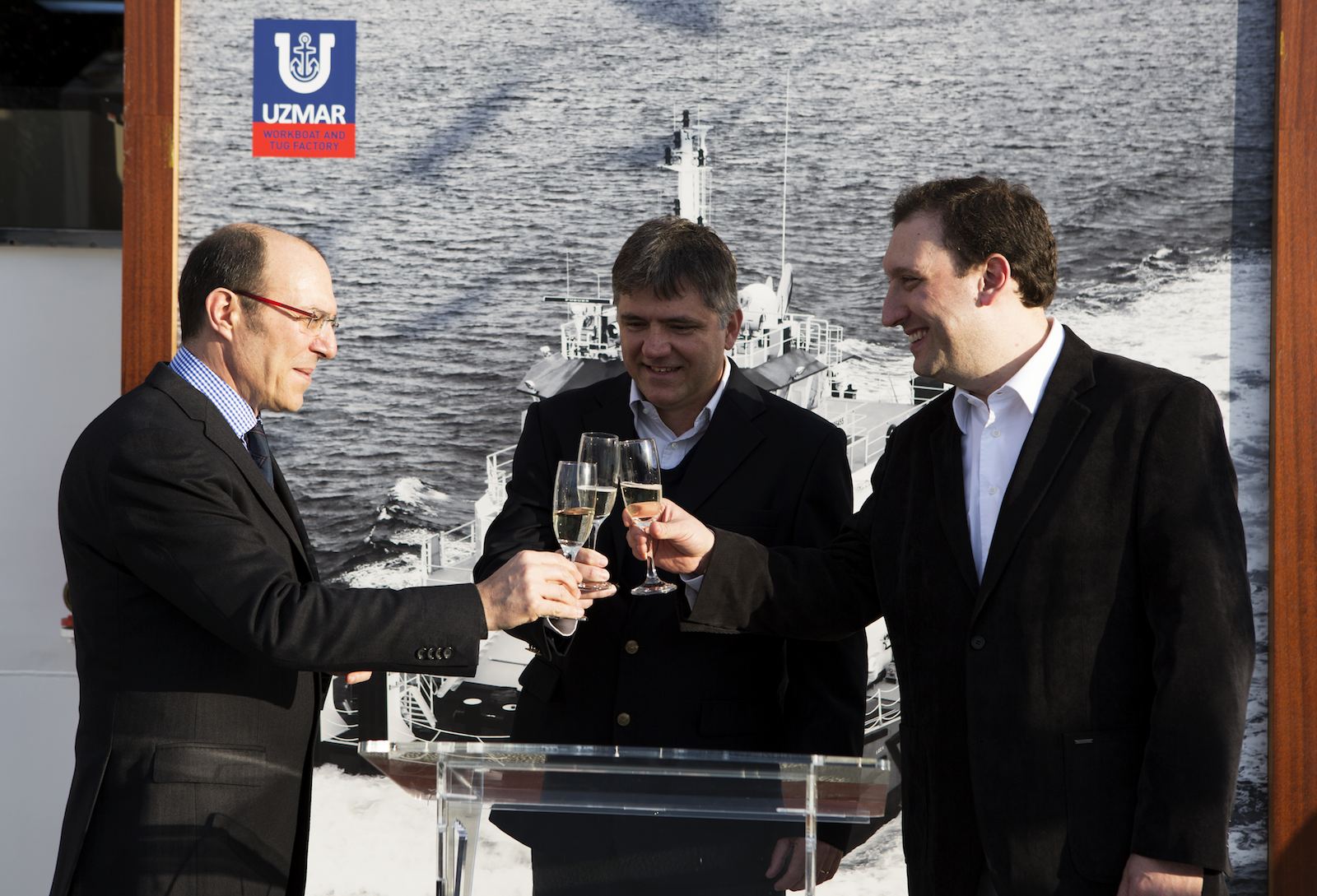 Delivery of World's most powerful diesel electric triple z-drive shallow draft push boats: An Innovative solution for the future of inland waterway transport logistics
March 7th, 2014 was a clear milestone for the inland river transport industry with the delivery of first two of 8 total Robert Allan design SDP 4600 Class push boats naming ceremony at UZMAR, Turkey, renown as "The Workboat and Tug Factory ''. These are the world's most powerful diesel electric triple z-drive shallow draft push boats ever built and able to transport a 16 barge flotilla of 48.000 dwt capacity through 2500 km range. These push boats were ordered by the Owner Hidrovias do Brasil S.A. to UZMAR in 2013 and the first two of the series named as HB HYDRA ASUNCION-PY and HB AQUIARIUS ASUNCION-PY are delivered after successful completion of sea trials.
Robert Allan Ltd designed and Vienna Model Basin optimised push boats are specifically customised for manoeuvrability,2.10 m navigational draft and the crash stop requirements after extensive CFD analysis which guided the design optimization for hull shape, tunnel geometry and propulsive components. The unique combination of power and manoeuvrability of this new generation push boats is more sophisticated than its predecessors in the inland waterway transportindustry.
These push boats will be used for iron ore transportation from North of Brazil to Uruguay through the Parana river inland waterways. The total distance is over 2,500 km with many extremely curvy river sections and occasionally less than 3 m water depth where excellent manoeuvrability and short crash stop is a necessity to achieve the desired average convoy speed. The crash stop requirement of the flotilla is 2.5 times the 250 m convoy length. The flotillas will consist of one push boat connected to 16 barges with a total capacity of approx 48,000 dwt.
The new generation push boat has 45.6 m LOA, 16.5 m beam, 2,10 m navigational draft and a total power of 7200 bHP with three azimuthing Schottel fix pitch propellers in nozzles driven by Wartsila / ABB diesel electric propulsion configured for shallow water operation. The AC variable rpm controlled diesel electric system is designed and integrated by Elkon / Imtech with ABB components. During the sea trials, max bollard pull of 69 tons and speed of13.2 kts are are achieved. Besides, due to UZMAR's sophisticated engineering and building practice, the design estimated vessel lightweight is achieved at 97% accuracy.
According to the designer Robert Allan Ltd, the new SDP 4600 push boat is a new innovative solution for inland waterway transport in South America where the extremely contorted river sections demand excellent manoeuvrability and crash stop capability with minimum navigational draft.
Mr Francisco Catarino, Hidrovias do Brasil Operations Manager in his speech during the naming ceremony said: ''We would like to congratulate Mr Altug, all UZMAR employees, their families and UZMAR subcontractors such as WARTSILA, SCHOTTEL, ELKON and all others involved in this very important project for Hidrovias do Brasil. We take this opportunity to thank all of you for your efforts and dedication you have made to this new innovative project.
We want to congratulate in special Mr Pablo Stevenazzi, our local representative, Paul and Neil from Edward's Marine and all our Paraguayan employees that have given their support to contribute to this new technology and project.
Besides the quality, punctuality and contract accomplishment at thisfirst deliveries, we appreciate the importance given to the safety by each UZMAR employee during the overall construction, because due to the commitment of each employee with UZMAR's safety program, as well as to Hidrovias requirements, we reached this first two first deliveries with "zero" injuries. Congratulations to everyone!
Three years ago we could not imagine that UZMAR would find itself setting a new milestone building such powerful shallow draft push boats for a new and specific market in South America and other waterways around the world.
The technology developed for these push boats is unique and a challenge for Hidrovias history, so we continue counting very much on all the UZMAR team that has been participating and committed to this new building program and we look forward to your support during the operational phase as well.
In the name of Hidrovias do Brasil group, we thank you once again to all of you.''
The Board Member of UZMAR, Capt. Kaan Altug in his speech stated :
'The key factor for the overall success of a project is always the good cooperation of the Owner, shipyard and the designer and today this is proven once again at the greatest level between each of us. Although we have been building harbor and terminal tugs in general for years, today UZMAR has proved its building capabilities in more demanding projects once again. We will continue working with Hidrovias do Brazil for the delivery of next sixpush boats with same level of great cooperation. We wish a safe voyage and good fortune for their Owners and crew members of these new first two push boats.'
The first two push boats are loaded side by side on board a semi-submergible project cargo vessel of ROLLDOCK for transportation to their logistics base in Montevideo, Uruguay. After safe completion of loading operation, the two push boats commenced their long transport voyage from Turkey to Uruguay on March 14th, 2014.
This news 12511 hits received.