Uzmar Christens More Top End River Pushboats
July 2014 was a clear milestone for inland waterway logistics with the christening of the second two of eight Robert Allan designed and Uzmar built SDP 4600 pushboats.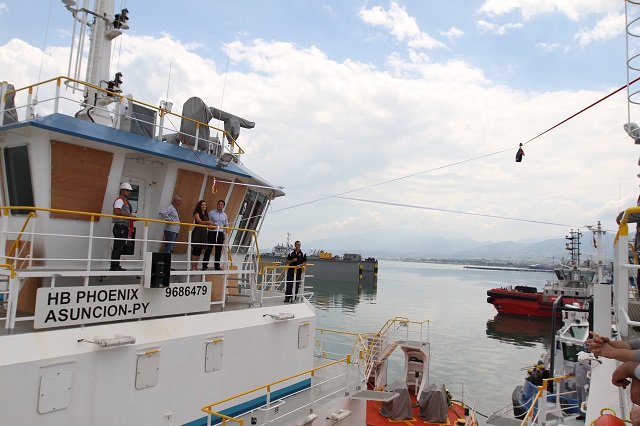 July 2014 was a clear milestone for inland waterway logistics with the christening of the second two of eight Robert Allan designed and Uzmar built SDP 4600 pushboats. The ceremony was held at Uzmar's Kocaeli shipyard in Turkey and the vessels have been built for owner Hidrovias do Brasil.
HB Phoenix Asuncion-PY and HB Lynx Asuncion-PY represent a new generation of advanced, powerful and environmental friendly shallow draft river push boat designed for South America inland waterways logistics.
Hidrovias do Brasil is a river iron ore transport subcontractor for Vale. The vessels have an unbeatable combination of fuel efficiency, safety, power and maneuverability in the 69 ton bollard pull range.
The ship operator was looking for shorter river voyage times with sophisticated power management technology, shallow draft with increased deadweight, improved sea keeping ability, increased crew comfort, higher escort force performance, high propulsion technology, greater endurance, low emissions and low fuel consumption.
The vessels will be used for inland waterways logistics from Colombia in Brazil to Argentina and/or Uruguay through the Paraguay-Parana waterway. The total distance is over 2,500km, much of it navigating through extremely curvy river sections which make excellent maneuverability a necessity. An additional crash stop requirement of 2.5 flotilla lengths proved to be a guiding factor.
In order to meet the required throughput, eight pushboats will be constructed. The flotillas will consist of one push-boat pushing 16 barges, with a total capacity of 40,000dwt. The operation will be a 24 hours per day, 11 months per year with minimum downtime.
Uzmar worked with Robert Allan, which has extensive experience in the design of powerful and maneuverable river tugs. In order to meet demands for maneuverability, maximized fuel economy and to comply with the crash stop requirement, extensive CFD analysis was performed by Robert Allan. As a result, the hull shape, tunnel geometry and propulsive components have been optimized for those specific requirements. This was then verified by a series of model tests conducted at the Vienna Model Basin in Austria.
The result of this deep research created the new generation pushboat which is a 45.6m LOA, 16.5m beam, 2.1m draft at the dry season and 2.4m draft at the wet season. The 7200bHP diesel-electric HFO powered pushboats have azimuth drives and propellers in nozzles configured for shallow water operation. The diesel electric (DE) system is an AC variable rpm controlled designed and integrated by approved ABB system integrator Elkon / Imtech with complete ABB components.
During the sea trials, max bollard pull of 69 tons and speed of 13.2 knots was performed. Due to Uzmar's sophisticated engineering and construction applications the estimated vessel lightweight is achieved at 97 percent accuracy.
Marcelo Ruiz Diaz ,Hidrovias do Breasil's shipyard representative, said, "On behalf of Hidrovias do Brasil, I will like to thank and congratulate Uzmar, Edward's Marine, each subcontractor and person who made possible the manufacture of the Phoenix and Lynx. Behind these two boats, there is a lot of invested time and sacrifice, among other resources.
"Having the Phoenix and Lynx sailing in South America is a huge achievement for Hidrovias do Brasil, Uzmar and for all of us. This is not the end of the project but a big step on that direction."
Uzmar's SDP 4600 pushboats are a strong contribution to Hidrovias doBrasil's dedicated strategy of developing a modern and internationally competitive inland waterways logistics operation.
The DE propulsion system, with three main diesel generator sets providing 3 x 1,710 kW of power to 3 x 1,600 kW motors, each driving a Schottel SRP 1215 Z-drive with nozzle modified for shallow draft operation. The major electric components (active front end drives, propulsion motors, generators, etc.) are ABB components, supplied by Elkon, while the generator engines are three Wärtsilä 9L20, medium speed, each producing 1,800 kW at 1,000 rpm.
When a low level sailing speed/power is required on board, the first engine starts at full load where the verified frequency drivers separates the power to the propellers evenly. If the power requirement reaches 40 percent, the second engine starts to feed up the propellers, the third engine follows this routine until the power requirement reaches to 70 percent. This allows high fuel efficiency and longer life cycle for the main engines and low CO2, NOx, SOx and PM emissions.
The pushboats will run on HFO, with the ability to operate on MDO if needed. Each pushboat has a total fuel capacity of 500 m³ of HFO and 30 m³ of MDO, and a ballast capacity of 400 m³. The potable water capacity of 34 m³ is supplemented by two onboard flash evaporator units.
The vessel is outfitted for a maximum complement of 18 persons, with six single and six double cabins spread over two deckhouse levels. Above a large wheelhouse with unobstructed 360° view allows operators excellent visibility of the barge convoy ahead as well as supervising barge connection work taking place on the raised forecastle deck.
The accommodation layout has improved crew comfort and complies with the very latest IMO and MLC 2006 crew and comfort regulations. Noise and vibration levels are kept to a minimum due to flexibly mounted main engines and flexible drive couplings. The accommodation and wheelhouse have a floating floor to keep noise and vibration levels to a minimum. Everything has been considered from an ergonomic point of view.
This news 10098 hits received.