Two coasters collided off HK, 2 dead, 6 missing
Two Chinese coasters collided off Hong Kong at around 1500 local time, chemical tanker Huijinqiao 08 loaded with chemicals, and sand carrier Runze 001. Sand carrier capsized and sank, from 14 crew 2 died, 6 went missing, rescue under way.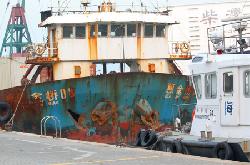 A pair of sea vessels collided early Tuesday in Hong Kong waters, killing two crew members and leaving six missing.
Early Tuesday morning, a sand barge collided with a container vessel east of Tung Lung Chau, an island about 2,500 meters east of Hong Kong Island.
Both ships were registered in mainland China. Hong Kong's Marine Department didn't release the names of the companies that own the ships but said it has contacted them as part of its investigation.
The 75-meter sand barge, Runze 001, which was carrying 14 crew members, capsized after the collision with the 50-meter container vessel, Huijinqiao 08.
The cause of the collision wasn't known, said Chung Siu-man, assistant director of port control for the Hong Kong Marine Department.
Rescuers saved seven of the sand barge's crew members early in a search operation. One of those rescued was pronounced dead on arrival at Eastern Hospital in Causeway Bay, Hong Kong, while the other six suffered minor injuries. All nine crew members aboard Huijinqiao were unharmed.
Around 12:30 p.m., rescuers found another barge crew member about 3.5 miles from the scene of the collision , prompting the search to focus west of Tung Lung Chau. That crew member was also pronounced dead at the hospital.
Mr. Chung of the Marine Department said such collisions are unusual. He speculated that the ships were traveling about nine to 11 miles per hour, given their size, and he said there was "moderate," though not ideal, visibility at the time of the collision, about 2.8 to 3.7 miles.
About 100 firefighters and 20 rescue divers were at the collision site Tuesday afternoon. Search-and-rescue efforts were expected to continue for another day or two. Winds have hampered the effort, creating challenging conditions for the three helicopters dispatched, said Wu Wai-hung, chief pilot for the Government Flying Service. The Hong Kong Observatory expects winds to stay strong until Thursday.
The Marine Department didn't say which vessel was at fault. The international regulations for ships at sea say that vessels on the port side, the nautical term for left, yield to starboard, or the right. Mr. Chung said the sand barge traveled southeast before looping around Tung Lung Chau while container vessel sailed southwest.
In 2004, according to the Marine Department's accident investigation reports, a Chinese container vessel sank in 2004 east of Tung Lung Chau due to rough weather conditions and shifting of improperly secured cargo inside the vessel.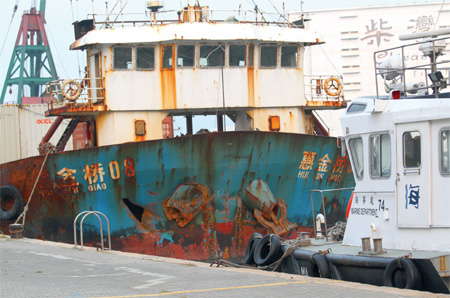 2 dead, 6 missing after ships collide off Tung Lung Chau Mainland sand barge Hui Jin Qiao 08 (left) is towed to Chai Wan Public Cargo working area after colliding into cargo ship Run Ze 001, also from the mainland, off Tung Lung Chau, on the east side of Hong Kong Tuesday. Two seamen from the barge died in the accident, with six missing. Edmond Tang / China Daily
Rescuers search for the missing mainland crewmen after the collision happened off Tung Lung Chau Tuesday afternoon. Provided to China Daily

This news 16633 hits received.