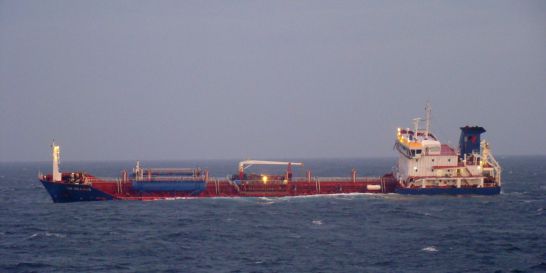 Fuel tanker in trouble in English Channel A fuel tanker is in trouble in the English Channel after colliding with a cargo ship but its crew were all safely evacuated, reports say.
The YM Uranus was carrying a cargo of heavy Pygas, a type of gasoline, when it hit the Panamanian-flagged Hanjin Richzad off Brittany overnight.
It was still afloat, but listing badly to port, on Friday morning.
A French frigate and a tug are close by and engineers are assessing if it can be towed to port without any spillage.
There were no immediate reports of pollution in the Channel from the YM Uranus, which is operated by V Ships in Glasgow.
Heavy Pygas (pyrolysis gasoline), a product of ethylene manufacturing, contains a large amount of the industrial solvent benzene.
The Channel is one of the world's busiest shipping lanes, with more than 400 vessels using it daily, and collisions continue to happen despite use of a radar-controlled traffic separation system.
'No imminent threat'
 
The 120m (400ft) YM Uranus, travelling from Porto Marghera in Italy to Amsterdam in the Netherlands, collided in darkness 50 nautical miles south-west of the French island of Ouessant with the 191m Hanjin Richzad, France's AFP news agency reports.
 There were no immediate reports of damage to the Hanjin Richzad, which had been travelling between Las Palmas in Spain and Rotterdam in the Netherlands.
The 13-strong crew of the YM Uranus took to liferafts at around 0330 GMT, from which they were winched to safety by a French helicopter and taken to a military base south of Brest.
Maritime officials quoted by AFP said the ship was "taking in large amounts of water".
Peter Bullard from Falmouth Coastguard in the UK said no pollution had been reported.
"There's certainly no imminent threat," he told BBC Radio Cornwall.
"It'd be foolish of me to say that pollution would never reach us but there's certainly no imminent threat. And that's not our concern at the moment."
Mr Bullard said the UK Coastguard's role at this stage was chiefly to assist their French colleagues.
"But obviously, the environment is of interest to all of us whether it's the French coast or ours," he added.
If you have any information to share with the BBC about this incident, please send us your contact details using the postform below.