Top global ports see box throughput rise 7.2pc in second quarter: report
GLOBAL throughput at major ports rose by 6.8 per cent year on year in the second quarter driven by 7.2 per cent container throughput growth, according to Shanghai International Shipping Institute's Global Port Development Report for Q2 2017.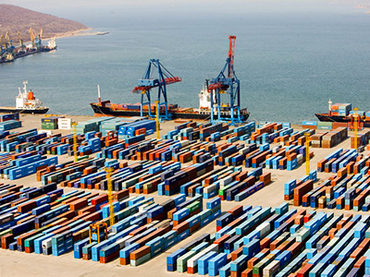 12 September 2017 - 20:00 - Update: 13 September 2017 - 16:43
Over the reporting period, international trade was active, foreign trade was boosted, and commodity prices were high, thanks to the stable global GDP growth of 2.7 per cent.

Overall positive trends were affected by developments in the different regions of the world, reported London's Port Technology International.

China's larger ports accomplished a domestic trade cargo throughput increase of seven per cent in the second quarter to 2.23 billion tonnes. The growth was attributed to the Beijing's "Belt and Road" initiative, which has increased the density of waterway transport networks along the Yangtze River and in coastal areas.

South Korean ports were busy, with Busan Port of reporting cargo throughput of 100 million tonnes, up 18.1 per cent year on year. At Kwangyang port and Taesan port cargo volume rose by 11.2 per cent and 8.9 per cent respectively.

European major port throughput rose by eight per cent year on year in the second quarter to 6.8 million TEU.

In the Americas, the ports of Santos and Vancouver were notable achievers, gaining double-digit growth rates year on year. They saw container throughputs of 948,000 TEU and 819,000 TEU respectively in Q2.

On the US west coast, major ports benefited from mergers of ports and terminals and optimisation investments. Second quarter container throughput at the port of Los Angeles rose by 6.6 per cent year on year to 2.242 TEU, while throughput at the port of Long Beach rose by 17.6 per cent quarter on quarter to 1.865 million TEU.

Global terminal operator markets enjoyed relatively stable development overall. The report noted a lack of change in the rankings of the world's top 10 ports for cargo throughput. At the same time equity throughput performance in Q2 varied among terminal operators.

All major terminal operators registered positive growth in terms of equity throughput, except for Cosco Shipping Ports Limited.

DP World ranked first in terms of growth rate, which rose by five per cent in H2 2017 compared to the same period last year. DP World's growth rate is expected to ultimately exceed that of China Merchants Port Holdings Company Ltd in the near future.

Maersk achieved a year-on-year growth rate of 4.3 per cent which is 1.7 percentage points higher than in the second quarter of 2016.
This news 2624 hits received.