Russian troops seize key port in Crimea
Russian forces began flowing into Crimea direct from the Russian mainland early Tuesday after an advance team crossing by ferry stormed and seized control of the strategic port of Kerch.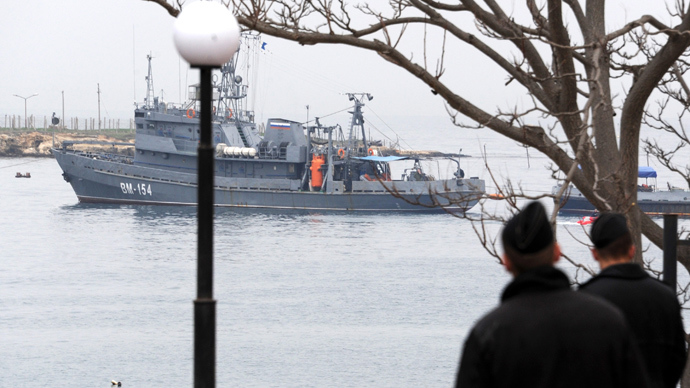 SIMFEROPOL, UKRAINE—Russian forces began flowing into Crimea direct from the Russian mainland early Tuesday after an advance team crossing by ferry stormed and seized control of the strategic port of Kerch.
The bloodless assault on the easternmost tip of Crimea opened a vital gateway for Russia, now firmly in command of industrial ferries just 4.5 kms across the Strait of Kerch from mainland Russia and capable of transporting heavy armor.
Two teams of commandos hidden in mini-buses and trucks arrived aboard back-to-back ferries and then regrouped on the Ukrainian side, encircling and overrunning the customs station at Kerch without firing a short, the Ukrainian Border Services said in a statement to Interfax-Ukraine.The development capped a day of brittle diplomatic battles, bucking financial markets and a tense standoff on the ground, as the last remaining Ukrainian troops on the peninsula remained trapped within their own bases, encircled by pro-Russian gunmen and refusing to stand down.
PhotosView photoszoomUkrainian government sources said 14 military trucks were spotted moving through the transfer point at Kerch in the early morning hours. A longer convoy waited on the Russian but it was unclear whether the transfers would continue.
With Russia and pro-Russian volunteers now in complete control of the semi-autonomous peninsula, the continuing buildup raised fears of deeper incursions into the Ukraine's eastern and southern provinces, where pro-Russian sentiment runs strong.A day-long flurry of diplomatic warnings peaked in an emergency session of the United Nations Security Council. The Ukraine mission accused Russia of deploying more than 16,000 troops inside
Crimea in the past five days and Russian officials, without challenging that figure, said it was a mission of mercy at the request of ousted Ukrainian President Viktor Yanukovych."Ukraine is on the brink of civil war," Yanukovych wrote in a statement read aloud at the UN by Russian envoy Vitaly Churckin.The statement went on to request that President Vladimir Putin use Russia's armed forces "to establish legitimacy, peace, law and order" in the face of "open acts of terror and violence."China, in a significant move, voiced its support for Ukraine's "territorial integrity," joining the Western chorus against unilateral intervention that has left the Kremlin increasingly isolated.President Barack Obama, who on Friday indicated, "there will be costs" to Russia's moves, signalled the U.S. was looking closely at a range of sanctions aimed at driving toward a diplomatic solution.But a steep price, with or without Obama, was already being exacted, as first Russia's and then global markets buckled on the gravity of the crisis.
The Russian ruble hit a new low against the U.S. dollar an euro before the Russian Central Bank intervened, selling $10 billion (U.S.) in reserves to prop up the falling currency. Moscow's MICEX stock index fell 11 per cent in the first day of trading after a weekend of spiralling tensions.Yet here in the eye of the geo-political storm, people in the Crimean capital went noisily about their day, ignoring the tensions at nearby military installations and the widespread fear beyond.
The only Ukrainian province with a clear majority of Russian descent, Crimea has long looked east to what is, for some 60 per cent of its 2 million residents, the mother country.But Crimea has its own identity as well, a unique mix that includes ethnic Ukrainian and Tatar minorities who have little interest in de facto annexation to Russia. And at least some among the Russian majority look nervously both ways — at Kyiv and at Moscow — hoping that both sides will leave Crimea alone."We were happy in Ukraine until this revolution and what we see now is lopsided, it tilts against Russian speakers," said Anatali Prudnikov, 34, a taxi driver in Simferopol taxi.
"But there could be answers to this. Ukraine could become a democratic federation in a way that lets Crimea meet its local needs. We don't want bloodshed. But we need to get our balance back.
"Crimea's regional parliament, strongly pro-Russian, on Monday changed the date of a previously announced referendum on the question of autonomy, officially moving it forward to March 30 from May 25.That move was seen as political warfare by the fledgling government in Kyiv. But neither government regards the other as legitimate.But the Ukrainian Central Election Commission, ostensibly impartial, also weighed in, saying the "there is no mechanism" in Ukrainian law for Crimea to proceed with a local referendum.
This news 8244 hits received.