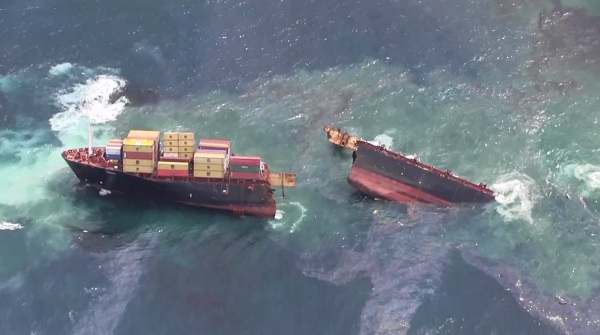 SALVAGE operators working the stricken 3,036-TEU Rena off the New Zealand coast were removing containers and other cargo this week from the sunken stern section of the wreck which ran aground October 5 on the Astrolabe Reef.
The condition of the wreck continues to deteriorate with electronic sensors showing heave and roll on both the separated bow and stern sections, said the coast guard agency, Maritime New Zealand (MNZ), which estimated that 250 containers were still below decks in the forward section of the wreck.
But because of the damage to the vessel and containers, MNZ says it is impossible to gain an accurate count of exactly how many remain onboard.
Svitzer salvage crews have cables to secure the Smit Borneo crane barge to the port quarter of the wreck, reports The Bay of Plenty SunLive. The barge is positioned to enable them to work the after holds and seafloor near the barge.
Salvage crews have removed eight containers from the sunken section using this method. There are still containers on the bow section of the wreck and efforts are continuing to cut and grind them, with assistance from helicopters to remove debris.
Container salvage contractor Braemar Howells has received 491 containers from the Rena, and recovered another 70 from the sea and beaches. A further 17 have been located, but not recovered. This brings the total either recovered or located to 578 out of the original 1,368 onboard when the ship ran aground.