ITF opens new "Seafarers' Rights " centre
THE ITF opened a centre focused on protecting the rights of seafarers. Seafarers' Rights International aims to address piracy, abandonment of mariners and criminalisation of seafarers, the resource hub's executive director Deirdre Fitzpatrick said during the launch at the IMO headquarters in London.
26 September 2010 - 11:26
A ground-breaking new resource to advance the legal protection of seafarers across the world was launched.
Seafarers' Rights International, which was inaugurated at the International Maritime Organization this morning, is a centre for research and analysis that will raise awareness of seafarers' legal concerns. It will work to ensure that the protection afforded to seafarers through national and international laws is improved.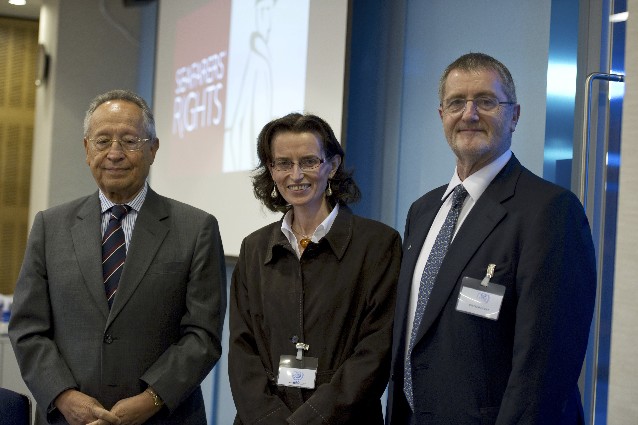 Left to right: Efthimios Mitropoulos, IMO secretary general, Deirdre Fitzpatrick, international lawyer and executive director of Seafarers' Rights International, David Cockroft, ITF general secretary
Funded by a start-up grant from the ITF Seafarers' Trust, the centre, which will be based at ITF headquarters in London, UK, is an independent organisation. It will carry out a number of tasks including: research on strategic topics, monitor legal developments affecting seafarers' law, and coordinate and participate in cross-border networks of researchers, research bodies and universities. Other activities include: promoting educational activities and delivering legal training and consultancy.
David Cockroft, ITF general secretary, commented: "The success of an independent body such as Seafarers' Rights International is crucial to identifying and tackling the rights of seafarers and that is of interest to all industry stakeholders including the ITF."
The new centre will be led by international lawyer Deirdre Fitzpatrick, who will take on the role of executive director. She will be supported by an advisory board comprising experts from the shipping industry and the legal world.
Fitzpatrick said: "Seafarers work in often hazardous conditions. As mobile workers they are highly vulnerable to ill treatment, exploitation, abuse and injustice. They operate within and across different national jurisdictions and are subject to different international and national laws. In some cases, there may be doubt as to what if any law is applicable or enforceable".
"Seafarers' Rights International will be dedicated to advancing seafarers' rights and interests worldwide. Currently there is no established forum for research and dissemination of ideas and information regarding employment law in the area of international maritime transport. Seafarers' Rights International will work to fill this gap. It will be an international resource for seafarers and for all stakeholders with a genuine concern for the protection of seafarers."
This news 15854 hits received.