High credits and expensive fuel hurt sector, say Turkish fishers
Fishers who had to contend with high expensive fuel prices in the past traveled to Zeytinburnu on Sunday to lend support to a pro-constitutional reform speech by Turkey's prime minister, who is currently providing cheaper oil.
05 September 2010 - 18:56
Fishers who had to contend with high expensive fuel prices in the past traveled to Zeytinburnu on Sunday to lend support to a pro-constitutional reform speech by Turkey's prime minister, who is currently providing cheaper oil.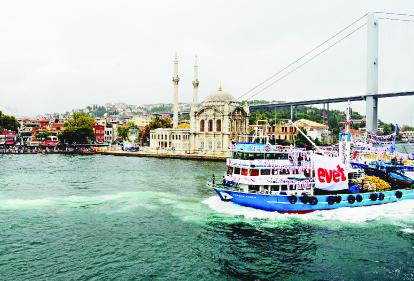 Having got credits from a percentage of 30, but had to repay them from 130 percent on account of the devaluation occurred in 2000, fishers said they overcame real financial hardships.
Nevertheless, the present government of Justice and Development Party, or AKP, provided many conveniences for us, said Şekip Yalçın, the captain of the ship Kerim Reis Four. "If other governments grant such facilities, we would also give support for them," told Yalçın the Hürriyet Daily News & Economic Review.
"Seeing that we took 14 thousand Turkish liras during the coalition government of Tansu Çiller and Mesut Yılmaz and repaid 83 thousand Turkish liras after a year later, this government [AKP] pointing that we already paid so much did not charge us from the 20 thousand Lira that we owed [to the state]," said the captain.
According to Yalçın, the credits presently offered by the AKP are around 12 percent and this includes value added tax and insurance. Furthermore, fishermen can supply diesel oil without paying private consumption tax, or ÖTV. "I remember getting diesel oil with barrels in the past. Now, if the diesel oil costs 2,500 TL [per liter], we get it from 1,500 TL," said Yalçın underlying that the same privilege is also provided to Turyol passenger ships and İDO sea bus services.
"The worth of this ship is around three to four million dollars," said Mehmet Yalçın, whose fisherman grandfather migrated from Rize hundred years ago. "If we want we could invest this money to a firm, instead we're giving a struggle by providing job opportunities for several people. Therefore, governments should be supportive of us," said the brother, Yalçın, criticizing the past coalition government.
On the other hand, fishermen have complaints about the catch restrictions taking place between the periods of May 1 to Sept. 1 annually. Emphasizing that he is a graduate of primary school, the father Kerim Yalçın said it was a high success for him to make his living with fishing considering his education level.
"Can a factory survive without producing four months? Our situation is the same," said Yalçın stressing that an alternative location should be found for fishermen.
The fishermen also criticized the professors making assumptions without knowing the traits of fishes well. "During the same period, pilchard and anchovy are caught in Greece," said the captain indicating the paradox.
"The real professors are the fishermen," added the captain who also does not approve the municipalities' closure of fish markets.
"Except in Kumkapı, they have abolished several fish markets. Instead they should open [new ones] to Bayrampaşa, Sarıyer and Bakırköy so that there can be [fresh] consumption," said Yalçın underlying that some 'clever' dealers, putting the fishes into deep freezes after buying them from 10 liras, sell those fishes for 50 liras afterwards.
The sea pollution called "kaykay," within the terms of fishermen, is another handicap, added Şekip Yalçın. Accordingly, the chemical materials conveyed to the sea are mixed with the dead jellyfish on the bottom and transform into a sticky muddy layer getting caught into the fishing nets.
"The contamination in the Golden Horn is dumped into the open sea in Marmara without being cleansed," said the captain illustrating that their major problem is the pollution of the sea. Despite the general assumptions, fishermen do not pollute the sea, noted the father Yalçın blaming the pollution created by the industries lacking purifying facilities. "Could you drink sour water poured into the glass, the situation of fishes is the same," said Kerim Yalçın.
Another issue that fishermen are not comfortable about is the fact that they are connected to the Ministry of Agriculture.
"The Ministry of Agriculture should abandon this sector. Given that they are not experienced, they cannot lead us effectively," said the captain referring to the long procedure of getting permissions.
"If you want to catch anchory you need pay some fees and get documents. If your ship's length is longer than the standards, you need to fix it," said Yalçın pointing that they had passed from these procedures as their license wasn't sufficient previously.
Highlighting that fishermen have numerous problems, Yalçın said that many are generally not recognized. "We hire crews by paying them will-call, but they often leave by getting the money and do not return back," said Yalçın noting that a system having intimidating characteristics should be formed.
"They should make them [the crew] insurance so that they won't leave by considering that their insurance will be cut otherwise," said Yalçın offering SSK as a solution. Yalçın added that they need a working force of 25 people to operate their ships.
This news 17197 hits received.