CMA CGM inaugurates its new offices on the Reunion Island
The Reunion Island becomes CMA CGM Group's new maritime hub in the Indian Ocean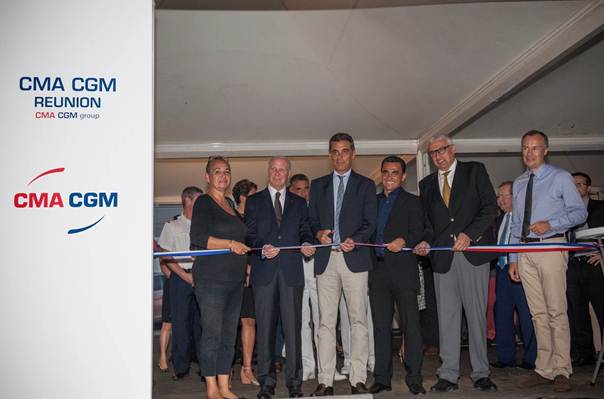 CMA CGM, a leading worldwide shipping Group, presented its new strengthened services offer linking the Reunion Island during the inauguration of the Group's new offices, on Tuesday 26th January. The event took place the day before the inauguration of the New Port Reunion. The Reunion Island now becomes CMA CGM Group's maritime hub in the Indian Ocean.
CMA CGM positions the Reunion Island as a strategic hub in the Indian Ocean: by offering 5 weekly calls compared to 3 previously, the Group links Reunion Island with Europe, Australia, Asia, India, East Africa, West Africa and South Africa.
The weekly NEMO service now allows direct links between Europe, the Reunion Island and Australia. CMA CGM offers one of the best transit times on the market combined to a fixed day schedule arriving on arrival on Wednesdays: Reunion Island is only 16 days from the Port of Fos and 21 days from the Port of le Havre.
With 2 weekly calls, MIDAS is the only service linking the Reunion Island to East Africa, South Africa, West Africa, Arabian Peninsula and India.
The MASCAREIGNES line offers a weekly service between the Reunion Island, Mauritius, and Madagascar. Thanks to connections with other Group's services, all locations within the Indian Ocean are served.
The MOZEX service offers a direct connection between the Indian Ocean and Asia via CMA CGM's Port Kelang hub in Malaysia.
Thanks to these new service offers, the Reunion Island will be served every Monday, Wednesday, Thursday and Friday. CMA CGM offers unprecedented export solutions to Reunion Island producers and new sourcing opportunities for local importers.
This new reinforced service offer is the finalization of a process initiated in August 2014 with Vice-Chairman Rodolphe Saadé signing a Memorandum of Understanding aimed at making the Reunion Island the Group's strategic maritime hub in the Indian Ocean, in presence of French President François Hollande.
Rodolphe Saadé, the CMA CGM Vice-Chairman, commented:
"The Reunion Island becomes today CMA CGM's maritime hub in the Indian Ocean. The Group restores its position as the maritime crossroads between Europe, Asia and Africa thanks to our new strengthened service offer. CMA CGM contributes to the economic growth of the Reunion Island with new sourcing and export opportunities, and the increased maritime activity generated."
CMA CGM has been present on the Reunion Island since 2003. Our new office area has been doubled to support the increased activity generated by the new hub.
This news 4111 hits received.