BINCO contracts Damen for seven workboats
A special contract signing ceremony between Bin Nowiran for Trading & Contacting Co-(BINCO) (Kingdom of Saudi Arabia) and Damen Shipyards Group (The Netherlands) has taken place on October 1st, 2013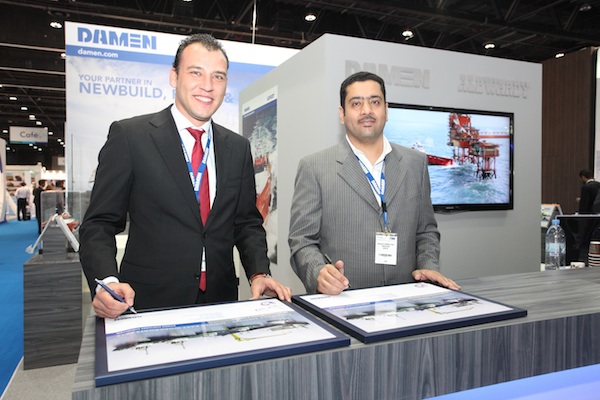 BINCO contracts Damen for seven workboats
A special contract signing ceremony between Bin Nowiran for Trading & Contacting Co-(BINCO) (Kingdom of Saudi Arabia) and Damen Shipyards Group (The Netherlands) has taken place on October 1st, 2013 during the Seatrade Middle East Workboat & Offshore Marine exhibition in Abu Dhabi (UAE). The contract is for 7 vessels of 5 different ship types
This unique contract is another milestone in the longstanding relation between BINCO and Damen. The vessels will be operated by BINCO in Kuwait to serve SPM operations of Saudi Arabian Chevron's marine export facility at Mina Saud in the PNZ.
BINCO has already been operating successfully in this field for 30 years and with these new vessels, which combine state-of-the-art technology, design and dedicated features, BINCO aims to strengthen its fleet and services towards Saudi Arabian Chevron, Khafji Joint Operations and other business partners.
As the managing director of BINCO. Eng. Khaled A. Bin Nowiran says: "it's great that Damen can provide a wide range of quality products as a package of their proven designs operating all over the world. Their trusted capability as to shipbuilding equals their after sales services and life-time support, which makes them a valued partner for us and in the Middle East."
DAMEN is proud of being awarded with this contract and looks forward to delivering a successful project to BINCO.
This news 9183 hits received.