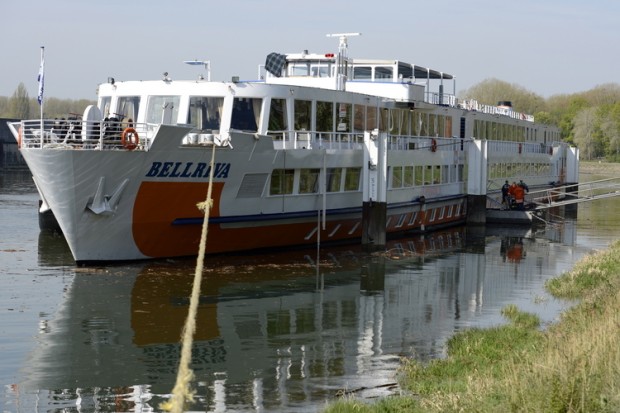 In the afternoon of Apr 18 the "Marte Meo" took the "Bellriva" alongside and moved it to Colonia where the owners already had reserved dock space for repairs. On Apr 25 repairs were expected to be completed. The 78-year-old pilot of the "Bellriva" was questioned by the police on Apr 18 regarding the grounding, but still many questions remained unanswered. Investigations against the man regarding endangering of ship traffic are going on. The captain did not have the required certificates for guiding the ship on this difficult route. The operator 1AVista has taken all passengers by coach to Colonia.
After the sinking of the Rhine steamer "Bellriva" has become the first pilot commented on the accident. Give in connection with the testimony of 78-year-olds but there are still many unanswered questions, the police reported Wednesday. Details were not announced with regard to the ongoing investigation. The man had steered the ship early Tuesday morning near Karlsruhe in three groynes and almost sunk. Against him for negligent endangerment of shipping is determined.
In the accident were able to 115 passengers in addition to the 43-man crew saved unhurt. The ship had sprung a leak after the collision with the stone walls in the amount Plittersdorf Rastatt, was able to escape on their own but still in the port of Karlsruhe.
The pilot was on board because he opposed the captain had the necessary distance for the line patent. One such patent is necessary for particularly tricky sections of the river - such as when the current is very strong or the fairway rather closely.
Since both the propellers "Bellriva" were damaged, the ship is drifting. The competent Waterways and Shipping Office Mannheim initially forbade him continue, said the person responsible Jörn Heilmann. On Wednesday against 16 clock the liner should also be towed by a barge, said the coast guard.
According to the cruise organizer 1AVista Meanwhile, all passengers of the wrecked ship in Cologne have arrived. Buses had brought her to the accident from Karlsruhe to Cologne. The "Bellriva" is itself housed in a Cologne shipyard and repaired there. "The shipyard we have already reserved space," said spokesman Sascha 1AVista Güldenmeister. Next Wednesday will start the next ship back to the Rhine cruise.