Attempt to take Modern Express in tow successful
The "Modern Express" is currently successfully kept away from the coast, towed by the "Centaurus".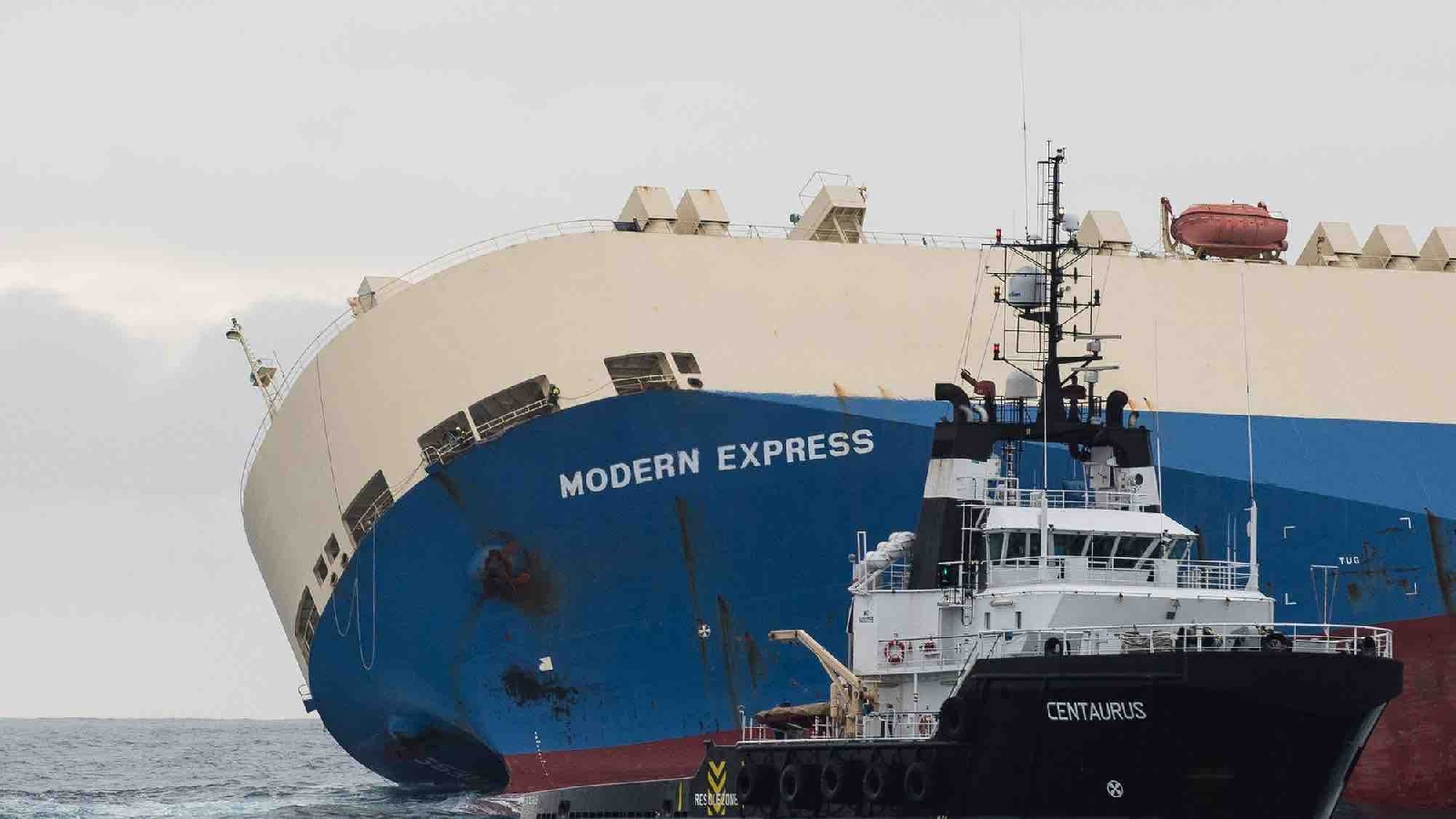 Attempt to take car carrier in tow successful
A delicate operation was conducted "successfully" on Monday to prevent the Modern Express, a South Korean cargo ship adrift for seven days in the Bay of Biscay, running aground on the southwest coast of France , according to authorities.
The building, fired by the Spanish tug Centaurus, was Monday night at 65 kilometers hexagonal coast en route to the port of Bilbao in northern Spain, it should join Wednesday morning, said the French Prefecture the Atlantic.
According to the latter, "the ship is now far enough away to not be afraid of stranding on the coast Landes".
The Spanish maritime authorities informed their French counterparts that they had "accepted the request of the owner," the South Korean Cido Shipping, "to welcome the ship in Bilbao".
The ship went on his way in the weather conditions "rather favorable" to the sequence of operations, told AFP the maritime prefecture.
"We take great care because the swell is still quite strong, with low of about 3 meters. But the wind has dropped" and breath "of 20-28 km /hour," does one of said same source.
RoRo, 164 meters long, had traveled to 1700 GMT a good twenty kilometers from the start of towing midday.
The priority was to keep him away from the coast to "give the margin"because the towing cable may break under the strain. "But the boat moves away from the coast with less wind and it's reassuring," he does one specified in Atlantic prefecture.
Cargo recent (2001) registered in Panama, the Modern Express transports 3,600 tons of logs and work gear. He sailed from Gabon to the French port of Le Havre (North West) Tuesday when he issued a distress signal at 280 km from the northwest tip of Spain, following a heavy list, possibly due an undocking of its cargo.
Its 22 crew, Filipino, had been evacuated by Spanish helicopters.
The operation started Monday was conducted by four experts from the Dutch company Smit Salvage, specialized in this type of intervention. They took advantage of a lull weather in the morning, while the cargo ship drifting towards the French coast.
None of the attempts made in previous days had permitted towing.
The threat of pollution are now discarded, Sunday triggered a warning system was raised on the southwest coast of France.
According to the maritime authorities, "no trace of rejection" of diesel fuel has been detected for the time and 300 tonnes of diesel contained in the hold of the cargo ship "seem honest."
For comparison, the tanker Prestige, wrecked in 2002 off the coast of Galicia (northwestern Spain), was carrying 77,000 tons of fuel oil.
This news 7778 hits received.