A Day in the Life of a Cargo Surveyor
FP Marine Risks asked one of its partners in the worldwide marine and transit claims consultancy WKW Group for an account of a typical day's work by a senior surveyor relating to project cargo inspection.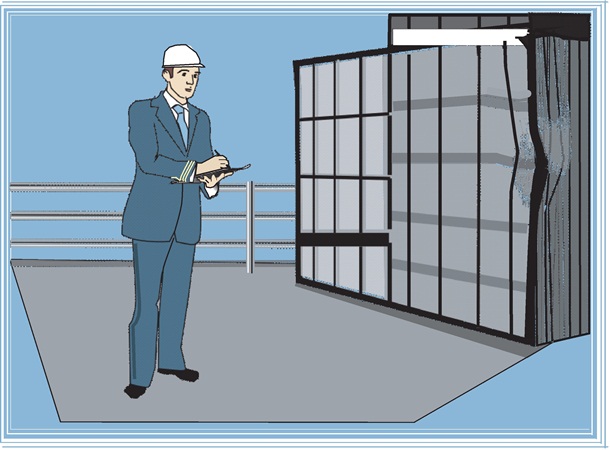 A Day in the Life of a Cargo Surveyor
FP Marine Risks asked one of its partners in the worldwide marine and transit claims consultancy WKW Group for an account of a typical day's work by a senior surveyor relating to project cargo inspection.
FP Marine Risks typically employs surveyors for their technical knowledge and experience to assess and evaluate risks and provide recommendations to minimize risks when placing covers for project cargo transports. Surveyors are independent and offer impartial recommendations.
"I wake up to another day and wonder what this one will hold," said John Argent, WKW senior surveyor.
"As a surveyor, no two days are ever the same. Before bedtime we may have had to supervise the lift of machinery worth millions of dollars or undertake a survey of a reefer container full of overly ripe bananas or, upon a call from the office, I could be on my way half way around the world. There is just no way knowing.
"However, today is the culmination of weeks of planning for a project cargo programme involving numerous turbines and generators. As the nominated project manager, I am at the very least required to attend the first stage of this operation.
Depending on the project requirements, a survey may take from a few hours to a few days, or even involve multiple visits over many months. Surveyors may work with other specialists such as metallurgists and other experts.
"I therefore get in my car and head towards the loading site," Argent continued.
"While I am travelling, a cheerful traffic report advises a seven-mile tailback on the motorway with stationary traffic. No change there then…The trip planner on my GPS suggests an alternative route and, since there is no room for delay, I accept its recommendation gratefully.
"I arrive, thankfully in good time, and arm myself with the full protective equipment required for the site. I grab the programme schedule of works securely in my hand and head towards the site operations that are coordinating today's lift. We are looking to get one 14-tonne rotor and two cases safely loaded and secured for transit and then safely unloaded at the factory site.
"I have to say, at first sight they do not look too enthusiastic at the arrival, so let us hope my charm and professional approach to the job in hand will pull them around."
"After my visual inspection of lifting wires and equipment, I am happy to be able to confirm that these are in good condition and of sufficient strength for the lift, and full certifications have been duly recorded. We then proceed to lift the rotor and secure it to the trailer using web lashings and 15-tonne chains. This operation takes the full morning, but in the end everything is fully completed without incident and also secured to the trailer to everyone's satisfaction and, more importantly, in accordance with lashing calculations. Now it is time for lunch and a cuppa before loading the cases.
"When the cases are safely loaded and secured, we attach shock watches to both the cases and to the rotor. I then have to make my final inspection of the lashings, ensuring each item of equipment has been transferred and secured correctly onto the road transport vehicles prior to releasing and signing off the cargo for transit.
"Next, I have to follow the consignment to the offload site, which is about 40 miles down the road. So far so good and all is on schedule.
"After the trucks have arrived, we remove all covering sheets and inspect the shock watches. Fortunately, none is found to be activated. Prior to lifting I undertake a visual inspection of the lifting wires and equipment used by this site and can confirm that they are in good condition and of sufficient strength for the lift-off operation to commence. Again, all certifications of lifting equipment are checked and found to be in good order."
Rotor inspection
In the next step of the job, Argent said: "I inspect the rotor itself and am happy to note that it remains secure with web lashings and chains under tension. It has not shifted in the wooden transit frame and the frame has not moved from its landed position on the wooden trailer bed. The site inspector agrees with the findings and it is then time to proceed with unloading."
But a day in the life of a cargo surveyor has its ups and downs, he noted.
"Unfortunately, the factory crane almost immediately suffers a breakdown and we have to shift the truck to an alternative unloading bay. To add insult to injury, it turns out that the crane at the new bay is locked and no one seems to know where the keys are. After standing around impatiently for some time while the keys are being located, we finally manage to proceed with the discharge.
Unlashing
"The shipment is unlashed and both cases are safely landed on the factory floor. It is then the rotor's turn and after removal of all protective material, it is lifted out of the cradle and placed in the factory cradle.
"By now we are now all getting very tired and I sense that the team's patience is starting to wear thin. Fortunately, the only thing remaining is the final inspection and I am happy to confirm that the rotor and cases have been placed into the care of the site operations without incident. The time is 2130 hours.
"After a long and busy day, I do not have the luxury of heading home since I have just been informed by our survey coordinator that I am on point for the Stage 2 operations scheduled for tomorrow. The surveyor who should have attended has been called away on another urgent job.
"So, before I am able to get into bed tonight, I will have to find a local hotel and try to get started on my report for Stage 1. Then it is back on site tomorrow for Stage 2. It's just part of what a cargo surveyor has to do on any given day," Argent concluded.
FP Marine Risks added that in choosing a surveyor, it looks at the specific issues in relation to the cargo, the incident and policy coverage and may recommend specific surveyors to ensure both the insured and insurers are properly represented, just as one would select a specific doctor or lawyer for specialist skills and fields of expertise.

This news 12516 hits received.