S.Korean naval ship sinking after collision
SEOUL (Reuters) - A South Korean navy ship was sinking off the country's southwestern coast, with two of the 30 sailors on board missing, after it collided with a fishing boat, a media official at the defence ministry said on Thursday.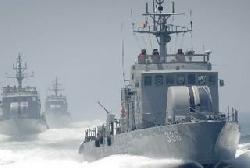 A South Korean patrol ship collided with a 270-ton fishing boat Wednesday night in waters northwest of Jeju Island, a Navy spokesman said Thursday.
Among the 30 sailors on board the 150-ton patrol ship Chamsuri, two are still missing and one died at a hospital after being rescued.
Among the remaining 28 sailors, five were injured during the naval incident and remain hospitalized
No casualties were reported among those who were on board the fishing boat.
After the collision, the Navy's patrol ship sunk in the waters.
According to the Navy, the Chamsuri was on a routine patrol mission in waters about 5.4 miles northwest of the island before the accident took place.
The Navy sent several patrol ships, as well as helicopters to the scene to conduct the search efforts.
A source from the Navy said high seas had made it difficult for rescuers to continue searching for the two missing sailors as the ship sunk.
The fishing boat reportedly had minor damage, compared to the patrol ship.
Coast Guard staff are questioning the captain of the 48-year old fishing boat whose name was identified only by his surname Kim as well as the other sailors to investigate the cause of the collision.
A South Korean Navy ship (file photo)
This news 10867 hits received.