The cruise industry is worth more than $430 million a year and ports are keen to host the growing number of massive "floating hotels" plying New Zealand waters.
But port infrastructure is still playing catch up, an issue that came in for attention in a recent Transport Accident Investigation Commission (TAIC) report into the February 2017 collision between a cruise ship and a cement carrier in Timaru's port. 
Longer than two rugby fields and weighing almost 42,000 tonnes, the Seabourn Encore broke its moorings in high winds, and crashed into the Milburn Carrier II, holing it above the waterline.
The port company, PrimePort, got a pasting in the TAIC report which also recommended that ports nationwide must be aware of the loads their mooring facilities can safely handle, and they must properly communicate weather warnings to all large vessels at risk in high winds.
According to maritime sources, the Taic findings are a long overdue wake up call for an industry relying on ancient wharves that were never designed for the big ships now tying up alongside them.
As one shipping agent observed: "The ships have been getting bigger, but the bollards haven't changed."
PHOTO: The Millburn Carrier II (left) was holed in a collision with the Seabourn Encore (right), which was also damaged when some of its moorings broke on its first visit to Timaru in 2017. 
PrimePort's number one wharf, where the Seabourn Encore tied up on its first visit to Timaru in February 2017, was built in 1878.
Accident investigators found that although the wharf had been extensively modified over the years, the port company had virtually no knowledge of the actual safe working loads of its mooring bollards, and mooring procedures were not strictly followed.
Within six minutes of the first bollard failing, the Seabourn Encore had swung across the harbour and hit the Milburn Carrier II.
Some bollards were found to be attached to rotting timber, welding methods had weakened bolts and there were not enough of them.
In 2015 the container ship E.R.New York broke free from PrimePort's North Mole and Taic notes that, had recommendations from that accident been implemented throughout the port, it is likely the most recent accident could have been prevented.
PHOTO: The cruise ship Seabourn Encore drifting after some of its moorings broke in high winds.
The NZ Merchant Service Guild represents masters, deck officers and pilots and general secretary Helen McAra had members on the bridge of the Holcim cement carrier when the collision occurred.
"From what I understand it was horrifying. It was completely unexpected and it shook them up a lot because it was just a huge jolt from nowhere."
Her concern is that fierce competition for business and pressure to turn a profit has led ports to skimp on maintenance.
She says the Seabourn Encore incident showed the degree to which infrastructure had degraded and highlighted the need for tighter regulation.
According to government regulator Maritime New Zealand there have been 32 incidents over the past three years where mooring lines or systems failed, half of them for large vessels such as bulk carriers or container ships.
Over that period there were 18,000 moorings by international vessels, so in that context the number is not high, but McAra is unimpressed.
"It's a pretty serious thing when lines fail, it's a big deal."
Taic surface investigations manger Martin Harper says a key lesson from the Seabourn incident is that ports have to ensure berths are suitable for the ships using them, even if it is only occasionally.
"This report is saying look at all your infrastructure, so if a large ship has to berth at a not so well used berth, we know it is safe.
"There is a lot of work to do to make certain a vessel of a certain size, in certain wind conditions, can remain safely alongside."
PrimePort cancelled three cruise ships scheduled to berth last summer while it worked on improvements, but visits will resume in the coming season.
Taid found the Seabourn Encore's equipment did not contribute to the accident, and when the sudden heavy squall hit, crew were quick to use bow and stern thrusters to try to bring the vessel back along side.
But the report did point out that a wind warning was not given to the ship's master, and although an attempt was made to alert the Milburn Carrier II of the impending collision via VHF radio, crew on the carrier's bridge did not recall receiving a call.
The NZ Cruise Association says small ports such as Nelson are  investing in new infrastructure so they can handle more cruise vessels.  
Cruise lines say they are satisfied with the outcome of the Taic investigation, and will work with ports to maintain safety, but did not respond to specific questions about their operating procedures and general port standards here.
Holland America Line, the parent company for the Seabourn brand, told Taic that in future shipping agents handling New Zealand port visits would insist on getting copies of test certificates showing bollards met recognised industry standards and were suitable for the size of ship using the berth.
When in port, any wind or weather warnings would be entered in the ship's log.
No one is talking about the total cost of the Timaru prang but repairs to both ships, two wharfs, and potential legal bills won't come cheap.
PrimePort's 2018 annual report budgeted $1.8m to cover any claims, plus an as yet unknown amount for consequential losses relating to the accident.
PrimePort chief executive Phil Melhopt says the company is fully insured and only expects to pay an insurance excess of $30,000.
He was reluctant to comment further, saying only that a process was underway, and the three parties involved were working together to resolve the resulting claim.
NZ Cruise Association chief executive Kevin O'Sullivan plans to visit Timaru shortly to look at extensive improvements which include $750,000 of new storm bollards for cruise ships.
He says other small ports such as Nelson, New Plymouth and Bluff are doing work so they can cope with increased numbers of cruise ships, with significant sums also being invested in Auckland, Lyttelton, Picton, Wellington and Otago.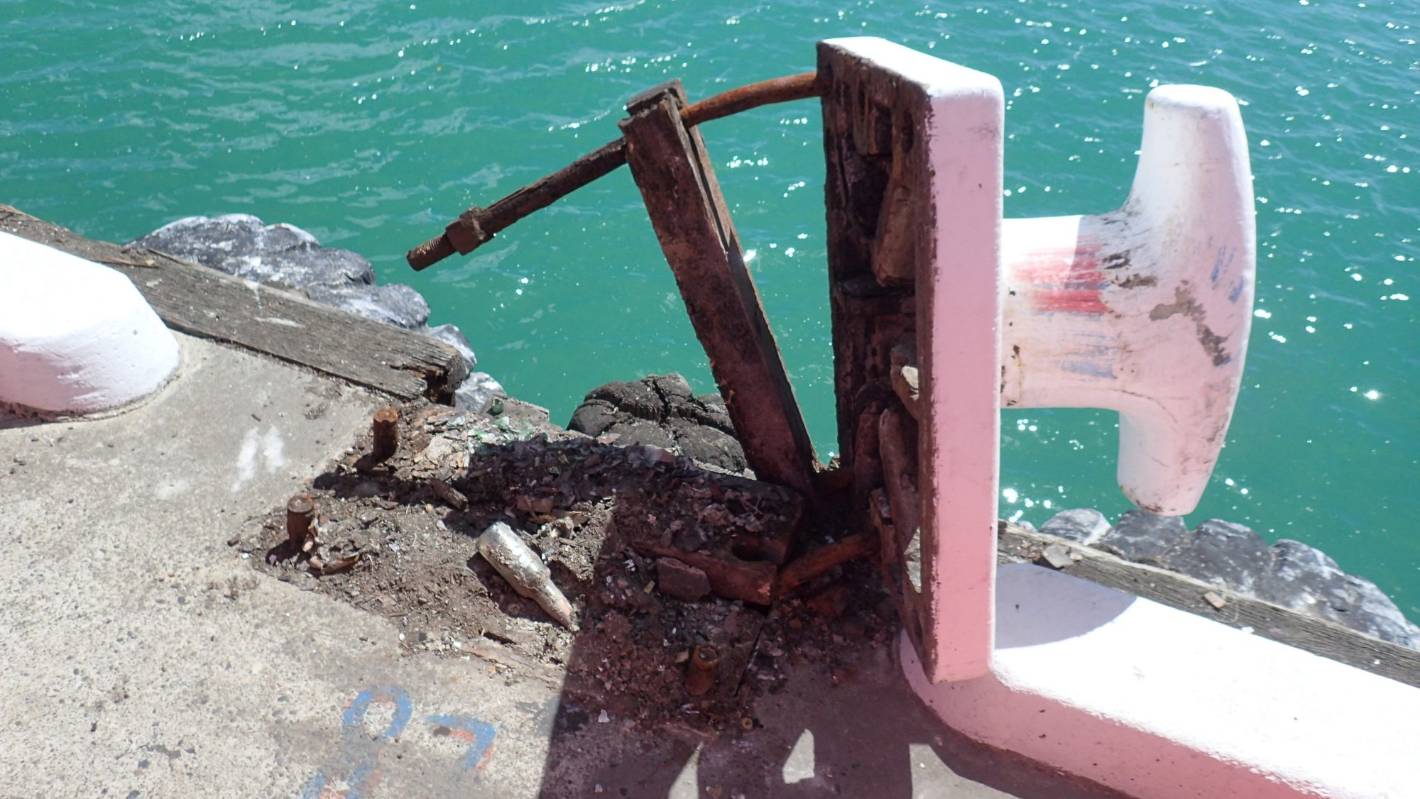 PHOTO: Mooring bollards were ripped out of the wharf after cruise ship Seabourn Encore was hit by strong winds in Timaru's PrimePort and broke free.
Auckland's Queens Wharf is due to get two new ship mooring dolphins so the port can berth larger cruise ships such as Ovation of the Seas which carries close to 5000 passengers.
A spokesman for Ports of Auckland said it has been inspecting and load testing its hundreds of bollards for a decade and had developed a machine to carry out the tests.
Designers of Lyttelton's new $56m cruise berth, scheduled to open late next year, closely studied  video of the Seabourn Encore collision.
Lyttelton Port Company chief executive Peter Davie says that compared with big cargo vessels, cruise ships are higher and don't go that far down into the water.
Added to that the side of a large cruise ship can have a surface area of 2 hectares which acts like a large sail when exposed to wind gusts.
"So when you think of wind blowing on 2ha continuously, that's a big force."
Maritime New Zealand undertook to press home Taic's recommendations in the Seabourn Encore report, and ensure ports meet their safety obligations.
Maritime New Zealand chief executive Keith Manch says constant investment in port infrastructure is needed to "keep on top of things" and he believes ports are taking the commission's findings seriously.
"There's no red lights flashing in our office around particular hot spots at this point in time.
"If people have got information suggesting things are in a bad state of repair it would be great if they would tell us about it."
PHOTO: An artist's impression of the new cruise berth at Lyttelton, due to open in November 2020. It is designed to handle strong wind gusts hitting large vessels side on. 
The voluntary Port and Harbour Marine Safety Code is overseen by a secretariat which carries out peer reviews of individual ports' safety management systems about every three years.
Maritime New Zealand can also do port inspections and audits.
Manch says it had not done any at this point because it was satisfied with the impact of the code since it was updated in 2016, but that could well change in future.
"We are crystal clear that if we don't see effective responses through the code process, then we will take our own independent action as the regulator."
Navigation standards have also come under scrutiny with Taic adding them to its watch list of safety risks late last year after a spate of errors where ships grounded, or hit rocks and wharfs.
They included the cruise ship L'Austral hitting rocks in the Snares Islands in January 2017 and grounding in Milford Sound a month later, and the Azamara Quest passenger vessel making contact with Wheki Rock in Tory Channel in 2016.
PHOTO: The equivalent of a floating hotel: Ovation of the Seas offers theatre and shows for almost 5000 passengers, but its size has proved a challenge for some New Zealand ports that have had to invest millions in appropriate infrastructure. 
Manch is pretty satisfied with the overall level of safety in the shipping industry, and says that even with the best equipment in the world, human failings contribute to accidents.
"We are not seeing anything that requires a dramatic response.'
However, the Maritime Pilots Association says lack of training is an issue with some ports, and it's no good giving staff new equipment without making sure they can use it properly.
Association president Steve Banks says they have talked to Air New Zealand about its airline pilot training methods in a bid to help maritime pilots, many of them in their fifties, adapt to using new technology such as portable piloting units.
"We've been operating the same way for decades if not centuries, suddenly we have all this new technology out there and now the expectation is that if it's available, we should be using it."
PHOTO: Plans to extend Auckland's Queen's Wharf to accommodate larger passenger ships were welcomed by the cruise industry, but opposed by some Aucklanders who attended a public protest back in March. 
Port facts:
* More than 70 different cruise ships visit New Zealand
* Auckland is our busiest cruise port, receiving more than 200,000 passengers last year.
* A controversial extension to Auckland's Queen's Wharf costing up to $13.3m will allow super-size cruise ships to moor alongside.
* Christchurch's new $56m Lyttelton cruise berth will open next year.
* Timaru's PrimePort is angling for a contribution from the Provincial Growth Fund to help build a $100m new wharf.
SOURCE: The Stuff, New Zealand