New shipping alliances offer less choice for shippers: Cargosmart analysis
FOLLOWING the April 1 launch of the three new vessel sharing alliances, 70 per cent of their direct routes will be operated by one alliance, led by 2M that will control 31 per cent of the direct services, resulting in less options for shippers. There will also be as a reduction in routes and port calls, according analysis by software solutions provider CargoSmart.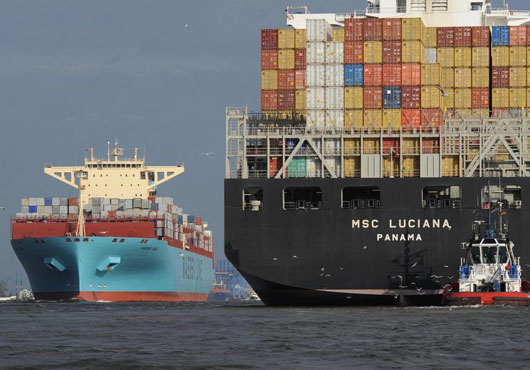 10 April 2017 - 20:00 - Update: 11 April 2017 - 09:27
The Ocean and THE alliances will gain two extra ports on Asia-Europe while losing five ports on the trans-Pacific. Services from the three alliances using the Suez Canal will decline by seven per cent, and while the percentage of services using the Panama Canal will remain unchanged, half will be operated by the Ocean Alliance.

A total of 60 per cent of the new alliance routes on Asia-Europe will have shorter transit times, and half of those on the trans-Pacific. Many transits on Asia-Europe and trans-Pacific voyages will betwo to three days faster on average, the data showed, reported IHS Media.

An area of concern for shippers will be that 50 per cent of the routes to be offered by the Ocean and THE alliance will change from direct to transshipment. Fewer direct route options and more transshipment could raise the possibility of missed schedules.

Across all three alliances, the Asia-Europe trade will have in total 50 new port pairs while the trans-Pacific will have 120 port pairs less than the old alliances.

There is the possibility that all shipments may be on the same containership even if a beneficial cargo owner BCO books with different carriers. For example, 37 per cent of vessels in the Asia-Europe trade network of the Ocean Alliance will be operated by CMA CGM.

There will also be fewer sailing days per week for the top five Asia-Europe trade lanes. Shanghai-Hamburg sailing days will decrease from five a week to four. Shanghai-Rotterdam from six to five, and Shanghai-Antwerp will decline from five sailing days a week to three.

The size of vessels operating the Asia-US trade is also increasing, with most of the main US ports seeing fewer visiting vessels for each alliance service, while the average vessel size for the alliance services will increase at the majority of the leading US ports.

Secretary general of the Global Shippers' Council, Chris Welsh, said the problem was that in the creation of the new market structure, the customer was largely not involved in the discussion, with the focus on what works for the container lines.

"There is little differentiation in price and service offering by carriers. Shippers are seeing less choice and less competition. We all need to be worried about that," he said.
This news 3090 hits received.