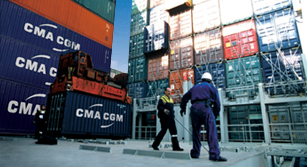 SHIPPERS have expressed concerns that they might have fewer choices in the wake of the recently announced MSC-CMA CGM operational partnership as the industry becomes dominated by the big three carriers that includes market-leading Maersk.
Alphaliner figures also show that the change provides the new MSC-CMA CGM partnership with an edge of 21.7 per cent in market share as Maersk has 15.8 per cent and MSC holds 13.2 per cent while CMA CGM controls 8.5 per cent.
Andrew Traill, managing director of the UK's Shippers' Voice and policy director of the European Shippers' Council, said: "Shippers want choices, choices of service and choices in the price of those services.
"When such amalgamation involves two of the top three, the concerns of shippers are bound to be heightened even more," Mr Traill said. "The increasing market power of the top three lines by capacity is also likely to raise eyebrows, especially now two of the three have combined on key trades."
Mr Trail said there were two factors to consider. "First, the lack of volumes in the market and the difficulties of utilising the vessels they operate, and second, that in order to compete for supremacy head-on with Maersk, they need to join forces, he told London's Containerisation International. "So the move makes some sense if market share is your only real business model."
Ben Hackett, principal of the consultancy Hackett Associates, said the alliance is possibly a response to the strategies implemented by the world's largest carrier Maersk.
Mr Traill cited the Daily Maersk service as an example. "That puts pressure on CMA CGM as they were working with Maersk from Asia to Europe, particularly to the Black Sea. There was no way for either MSC or CMA to compete with the Daily Maersk concept. Only by combining can they do so. Beyond that, no one else can match these two giants on slot costs."
Diego Aponte, son of MSC founder Gianluigi Aponte, told the Financial Times that he would welcome other carriers into the alliance.
"Should other carriers want to join us, we would be delighted, because at the end of the day we need to fill up the vessels," he said.
Containerisation International notes that the new partnership is so far limited to Asia-Europe and Asia-southern African and South American and not the transpacific of other trade lanes. "It also doesn't account for key network advantages Maersk enjoys through its hub and spoke model," it said.
An MSC-CMA CGM spokesman said the partnership had no plans to lay up vessels or set up a joint lay-up pool as "each carrier had an important number of charter vessels that could be off-hired instead."