Mediterranean Shipping Company raises capacity on intra-Med loops
SWISS carrier Mediterranean Shipping Company (MSC) is to upgrade its intra-Med feeder service with two vessels of 4,000-TEU capacity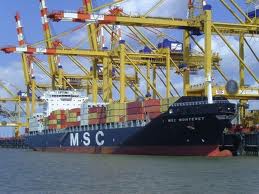 Mediterranean Shipping Company raises capacity on intra-Med loops
SWISS carrier Mediterranean Shipping Company (MSC) is to upgrade its intra-Med feeder service with two vessels of 4,000-TEU capacity to replace its two vessels of 2,700-TEU to 2,900 TEU and join a vessel of 3,500-TEU capacity.
The upgrade in capacity on this West Med-Greece Turkey service will make it the biggest dedicated intra-Med service with a three weekly turnaround. It follows a trend for larger capacity vessels on intra-regional services usually reliant on capacity average below 2,000 TEU, cited a report from Paris-based Alphaliner.
Its port rotation will be Castellon, Valencia, Barcelona, Fos, Piraeus, Istanbul, Gebze, Gemlik, Izmir and back to Castellon. It will deploy 3,534-TEU MSC Kerry, the 4,173 TEU MSC Vienna and the 4,644-TEU Polaris J to be renamed Merkur Planet.
By enhancing capacity it will be able to combine regional volumes between Spain, France, Greece, Turkish and Black Sea markets as well as benefit from feeder volumes transshipped at Valencia to and from the Americas.
This news 9501 hits received.