Malaysia-Turkey free trade agreement to bring mutual benefit
There is substantial room for growth in Turkish-Malaysian economic relations given the two countries' immense economic potential and the warm relations between their peoples.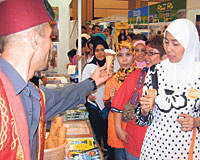 12 September 2010 - 11:39
There is substantial room for growth in Turkish-Malaysian economic relations given the two countries' immense economic potential and the warm relations between their peoples.
Malaysia and Turkey, both huge economic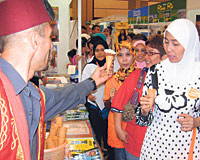 There is substantial room for growth in Turkish-Malaysian economic relations given the two countries' immense economic potential and the warm relations between their peoples. powers in their regions, are in the midst of negotiating a Free Trade Agreement (FTA), which, if successful, will secure more bilateral trade between the two countries and serve as a platform for both nations to access other markets.
Being the 16th largest economy in the world, with a large population of around 71.4 million and a per capita gross domestic product (GDP) of $9,950, Turkey is seen as an appealing market for Malaysian products. The commercial counselor's office of the Turkish Embassy in Kuala Lumpur organized a trade delegation that traveled to Malaysia in January, hoping to encourage Malaysia to import more Turkish products, and invited Malaysian products to Turkish trade fairs. In the first quarter of this year, Turkey's total volume of exports to Malaysia was around $16.5 million, while its imports amounted to $243 million. By the end of the second quarter, Turkish 2010 exports to Malaysia had risen to $93 million with imports more than doubling to $498 million. By 2012, bilateral trade is expected to rise to $2.5 billion, with Malaysian exports making up a large portion, said Hasan Önal -- a commercial advisor at the Turkish Embassy -- in an interview with a Malaysian news agency in July.
Malaysia holds a strategic location in Association of Southeast Asian Nations (ASEAN) and could promote Turkish products to neighboring countries. Turkey can assist Malaysian companies expand their trade and investment into Central Asia, the Middle East, Europe and North Africa.
In a statement to Sunday's Zaman, the Foreign Trade Undersecretariat said: "Turkey attaches great importance to enhancing and deepening its trade and economic relations with the countries in the Asia-Pacific region. For this purpose, starting from 2005, Turkey has been implementing the 'Trade Development Strategy towards Asia-Pacific Region.' Malaysia, as a big economic power in the region, occupies a significant place for Turkey. ... Turkey believes that an FTA between Turkey and Malaysia would best correspond to the interests of the parties."
According to the Malaysian Ministry of International Trade and Industry, the decision to begin investigating the likelihood of an FTA was made over the course of several meetings between Malaysian and Turkish officials since late 2009. Turkey's reassurance of its strong interest in establishing an FTA with Malaysia then led to initial talks between Malaysia and a Turkish delegation held over two days last January in Kuala Lumpur. Discussions revolved around exchange of information on bilateral trade relations, respective economic policies and prospects of intensifying bilateral trade and investment. Both countries also committed to conducting their own feasibility studies on the suggested FTA. The positive results of the studies and approval from the Malaysian government resulted in the launch of the first Trade Negotiating Committee meeting between Turkish and Malaysian trade officials held in Ankara between May 31 and June 1. Areas that are being negotiated under the Malaysia-Turkey Free Trade Agreement encompass trade in goods, legal issues, trade remedies and cooperation. However, discussions on trade in services are to start a year after the trade agreement comes into force.
At the sector level, main Malaysian exports to Turkey include vegetable oil, crude rubber, gloves, palm oil and mittens, as well as electrical machinery and equipment. Major Turkish exports to Malaysia include fuel oil, carpets and other textile floor coverings, disodium tetra borate and natural borates, wheat or meslin flour and unwrought tin. Malaysia imports manufacturing services from Turkey and exports services related to wholesale and retail trade, as well as franchise businesses.
Turkey is also eager to have FTA talks with other ASEAN countries in the future. "We are going to start with Malaysia first, and other ASEAN countries could take this as an example and be attracted to it," Hüsnü Dilemre, director-general of EU Affairs at the Turkish Foreign Trade Undersecretariat, told the Bernama news agency earlier this year.
Insight on the MTFTA Trade Negotiating Committee meetings
The inaugural meeting of the Malaysia-Turkey Free Agreement (MTFTA) Trade Negotiating Committee (TNC) took place in Ankara from May 31 until June 1, featuring talks about terms of reference, scope, coverage and the modalities of negotiations. Three Working Groups – Market Access, Cooperation and Legal Matters – were also established during the first meeting. Both countries also agreed, in principle, to fast track their negotiations and aim for conclusion by the first half of 2011.
The second TNC meeting was held from Aug. 23-25 in Kuala Lumpur. The Malaysian delegation of the meeting was led by Dato' Kamaruddin Ismail, deputy secretary-general of the Ministry of International Trade and Industry, while the Turkish delegation was led by Cemalettin Damlacı, deputy undersecretary of the Foreign Trade Undersecretariat. Both parties have agreed for a third TNC meeting to convene between Nov. 30 and Dec. 2 of this year in Turkey.
This news 22646 hits received.