MARKET NEWS/ RUMOURS
Bulkers:
We picked up that cape CAPE CAMELLIA (172K BLT 2000 NKK/JAPAN) was acquired off market for $17.5 mill by Norwegian buyers (hearing clients of Berge Bulk), same price level as last week's sale of GREAT PHEASANT (178K BLT 2000 HYUNDAI/S. KOREA). In another off market deal, modern unit NORD MERCURY (77K BLT 2008 OSHIMA/JAPAN) has attracted the price of $18.4 mill from German buyers (hearing clients of Oldendorff). May we remind you that two years older sister SANTA TERESA (77K BLT 2006 OSHIMA/JAPAN) was reported sold to Greek buyers for $17.5 mill couple of weeks ago.  Japanese controlled panamax HALO CYGNUS (73K BLT 1998 TSUNEISHI/JAPAN) was sold to Greek buyers (hearing clients of Modion) for $8.7 mill, in line with last week's sale of younger sister BRAVE STAR (73K BLT 2000 TSUNEISHI/JAPAN) for $10.5 mill. We understand that nineties vintage handymax IZOLA (45K BLT 1997 THUNEISHI/JAPAN) has obtained $9.5-$9.8 mill from Greek buyers (hearing clients of Albamar) almost same price level as late October's sale of SUNNY GLORIA (45K BLT 1998 THUNEISHI/JAPAN) for $9.4- $9.7 mill also to Greeks.
Tankers:
Two modern IMO III, epoxy coated MRs were committed en bloc this week; FANTASIA and ELECTA (2 X 51K BLT 2009 SLS/S. KOREA) went to Mexican buyers for the firm price of $28.5 mill each in comparison with mid-summer sale of STI DIAMOND (51K BLT 2008 STX/S. KOREA) for $25.5 mill to Greeks. Last but not least, handy unit SAFFRON 1 (32K BLT 1999 DAEWOO/S. KOREA) is committed for $8.2 mill to undisclosed interests.
Containers: 
We understand that two vintage gearless sisters POTSDAM and POMMERN (2 X 34K BLT 1996 KWW/GERMANY 2682 TEUS) were snapped for $5.1 mill each by clients of Technomar of Greece. Clients of Victoria Oceanway of Greece have agreed to pay the price of $5.25 mill for late nineties geared unit CLASEN RICKMERS (30K BLT 1998 CHINA SHIPBUILDING/CHINA 2226 TEUS CR 3X45T).   One year younger geared unit E. R. DURBAN (23K BLT 1999 S. STOCZNIA/POLAND 1730 TEUS CR 3X40T) has gone to undisclosed buyers for $5.25 mill while two more vintage geared units ANTJE SCHULTE and FABIAN SCHULTE (2 X 22K BLT 1997 MTW S. /GERMANY 1608 TEUS CR 3X40T) were sold en bloc to clients of Sinokor of South Korea for $2.5 mil each.
Demolition:
Bangladesh and Pakistan markets are steady as last week paying between $370-$390 for bulkers, $390-$420 for tankers & $380-$400 for container vessels. India has softened by $5-$10, paying $385-395 for bulkers, $415-$425 for tankers and $410-$415 for containers. China has improved paying $350-$360 for bulkers, $360-$370 for tankers, $355-$365 for containers. Turkish market has also firmed couple of dollars per lt, paying $310-$320 for bulker, $315- $325 for tankers and $315-$325 for containers.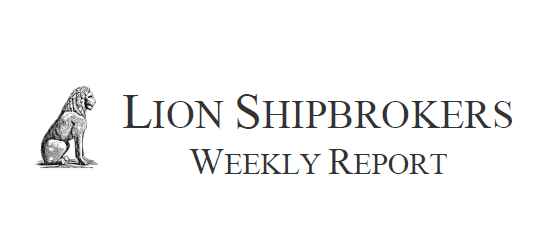 CLICK ON THE LINK BELOW TO READ THE FULL REPORT IN PDF FORMAT:
http://www.seanews.com.tr/reports/Lion_Weekly_W46.pdf