Launch of mega alliances will result in the removal of many port-pairs
AHEAD of the April 1 launch of the new Ocean Alliance and THE Alliance, the newly unveiled network coverage shows that on both Asia-Europe and trans-Pacific trade lanes, a significant number of direct port-to-port combinations will be scrapped, SeaIntel data shows.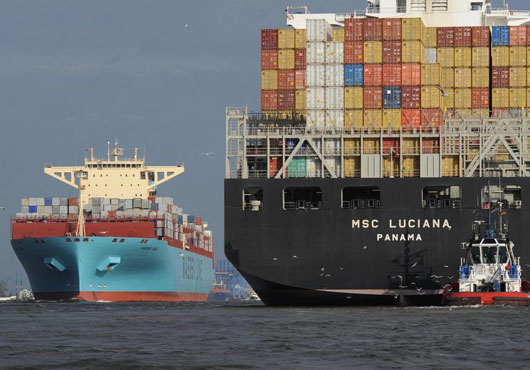 12 March 2017 - 20:00 - Update: 14 March 2017 - 10:18
The maritime analyst identified 78 port-pairs that have been removed, with Northeast Asia-Mediterranean is suffering the largest loss of connectivity owing to the launch of the new alliances.

Port Klang will suffer a significant blow by the new upcoming networks in terms of connectivity to North European ports. "In fact, given the large consensus among the new alliances to rely on either Singapore as Southeast Asia hub, as is the case for Ocean and THE alliances, or Tanjung Pelepas as is the case for 2M Alliance, Port Klang will be offered significantly less on this trade," SeaIntel was cited as saying in a report by IHS Media.

There will be 22 lost port-pairs within the Southeast Asia-Mediterranean trade lane. The majority of these lost port pairs show that especially connectivity from the hubs of Port Klang and Tanjung Pelepas to Mediterranean ports will sharply decline.

While five port-pairs out of Singapore will disappear, the new alliance networks will offer four new products out of Singapore to Mediterranean ports, all from the Ocean Alliance.

A total of 150 direct port-pairs will no longer be available on the trans-Pacific trade when the new alliances begin, and only 56 new port-to-port combinations will be offered compared to the current network.

In addition to this, the port-pairs that remain in both the current and new alliance networks will see a massive loss in service frequency, with 135 out of 354 remaining port-pairs seeing a decrease in service frequency, according to the analyst.

Carrier preparations for the new alliances are creating problems in Europe, where repositioning or withdrawing of vessels has contributed to chronic space shortages on vessels leaving for Asia. This has affected most carriers on the Europe trade, including Japanese liner NYK Line.

NYK, currently a member of the G6 Alliance, is preparing for its start in THE Alliance from April 1. "Due to vessels sliding out of service or changing into new service we are confronted with blank sailings on some loops," NYK told customers in an advisory.
This news 3524 hits received.