Holland America Line Opts for INTERSCHALT VDR G4
Holland America Line's fleet of 15 ships annually offers more than 500 cruises to 415 ports of call in 98 countries, territories or dependencies. This demands a commitment to safety and sustainability, which led the company to retrofit the VDR system of its entire fleet with the INTERSCHALT VDR G4.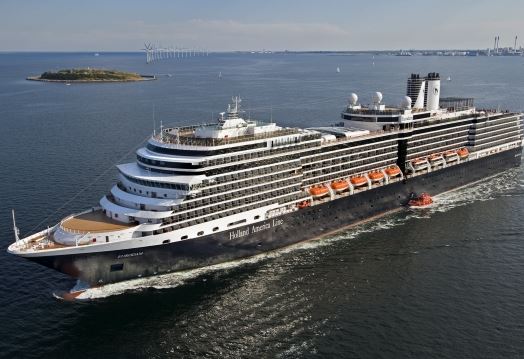 "Replayer", VDR G4′s online monitor, provides a detailed picture of the ship's position in real time on a chart and can transfer this playback to a notebook or a smartphone so that the captain can access an overview of the current situation at all times even from his cabin.
Important information about radars, alarms, the positioning on the electronic chart, machine data from the conning display and helm data is available in real time.
Safety is a top priority for all cruise operators, and Steve Nevey, Nautical Superintendent, Technical Operations of Holland America Line, is no exception: "We have a great responsibility to safeguard the well-being of people and oceans we sail upon. Ongoing training and adherence to rigorous standards are vital to preserving and protecting our guests, our employees and the environment. It is essential to the successful conduct of our business."
Online monitor for each ship
Using the online monitor, the captain can see at a glance whether the watertight doors are all properly closed or, in the event that they aren't, which locations need to be re-checked. The online monitor provides reliable information and is individually customized and optimized for each ship.
Of course, Holland America Line has a control center in Seattle where the information is collected in an ERC (Emergency Response Center) and experienced nautical officers offer their support in cases of emergency.
Data flow via VDR and satellite
New features: the information automatically flows through the newly installed VDRs and its software via satellite communication, which means that in cases of emergency the crew no longer has to also worry about transmitting data but instead can take action and simultaneously receives support on account of the data, which is transmitted automatically, via email, SMS or to smartphones, etc.. This way, the onshore team can provide valuable assistance.
In addition, by storing the data and automatically transmitting it, the VDR G4 provides important knowledge: the stored data always depicts reality 1:1 since false alarms, for example, are also recorded.
The data comes from the entire vessel and is retrieved via interfaces. The Annual Performance Test (APT) also involves checking to see whether the information is really correct and whether the data of the measuring points is actually being received.
Everything that is connected is tested. Due to the various different ship classes and ages of the ships there are very different technical standards on all Holland American Line vessels, which the technicians are specifically prepared for.
Retrofitting process to be completed in 2nd quarter 2014
The Holland America Line project began in Q2/2012 and will be completed in Q2/2014 with a total of 15 ships being retrofitted.
Steve Nevey, Nautical Superintendent, Technical Operations at Holland America Line, has been happy with the project's progress to date: "We wanted to get the INTERSCHALT VDRs onboard our ships as quickly as possible as we were impressed with the quality of the device and the quality and presentation of data. The automated processes contribute to improving safety and quality. Our ERC in Seattle now receives more standardized data for processing and receives it much more quickly. As a premium cruise operator, it is of paramount importance for us to be able to meet the highest safety standards."
Steve Nevey adds: "We are very pleased with the project's progress. As a premium cruise operator there are of course restrictions on our ships with regard to when and where technicians can go. As a result, we had to stick to a precise schedule as some work can only be carried out in a drydock. The quality of INTERSCHALT's service has really impressed us. From the retrofit right up to the APTs, everything has been carried out on time and to a very high standard, even the dress code on the bridge where only the captain and his crew wear white."
This news 7249 hits received.