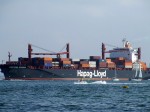 GERMANY's Hapag-Lloyd has announced its Kobe Express on the Grand Alliance PAX service will drop Oakland and Seattle ports and go to Manzanillo, Mexico due to "technical issues", said the company statement.
The service connects China and Japan with the US west and east coasts, as well as North Europe. According to ComPair Data, its rotation is Antwerp, London-Thamesport, Hamburg, Rotterdam, Halifax, New York-New Jersey, Norfolk, Savannah, Manzanillo (Panama), Los Angeles, Oakland, Yokohama, Kobe, Kaohsiung, Shenzhen-Yantian, Hong Kong, Shenzhen-Shekou, Kobe, Nagoya, Tokyo, Seattle, Oakland, Balboa, Manzanillo (Panama), Savannah, Norfolk, New York/New Jersey, Halifax, and back to Antwerp.
As a Grand Alliance joint service, it is run with 14 Hapag-Lloyd vessels, with alliance members NYK Line and OOCL taking slots.
The Hapag-Lloyd statement did not mention the effective date of new arrangement. But according to OOCL's online schedule, the Kobe Express was due to call at Seattle on December 11 and Oakland December 14.