Grand old seafaring lady of Koman family settles in Turkey
The MS Hulda, Turkish artist İlhan Koman's sailboat and longtime floating home, travels from Sweden to Istanbul for a festival of sculpture to celebrate his eclectic work through Nov 23. Elif Koman-André discusses her father's dreams, their family life, their aspirations for the boat and Turkey's recognition of her father's work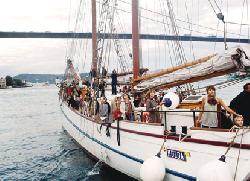 27 September 2010 - 12:00
The MS Hulda, Turkish artist İlhan Koman's sailboat and longtime floating home, travels from Sweden to Istanbul for a festival of sculpture to celebrate his eclectic work through Nov 23. Elif Koman-André discusses her father's dreams, their family life, their aspirations for the boat and Turkey's recognition of her father's work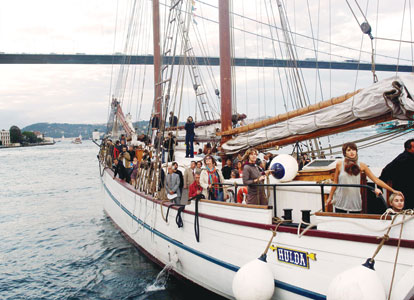 The MS Hulda is in Istanbul as part of the many events organized for the 2010 European Capital of Culture program.
Centenarian sailboat M/S Hulda (1905) has finally arrived in Istanbul after her long, exciting voyage from Sweden, which started in April 2009. This grand dame, a stately old lady of the seas, has sailed, motored, creaked and rolled her way to Turkey. Like the Koman family, four generations of which have lived on her for many years, she is unique and idiosyncratic.
Hulda came to Istanbul as part of the many events organized for the 2010 European Capital of Culture program, specifically as part of a sculpture festival celebrating the eclectic work of artist İlhan Koman (1921-1986) through Nov. 23. The exhibition of his work reflects his valuable legacy to the Turkish arts, but for his family, friends and admirers perhaps the most significant aspect of this peerless man's work is Hulda herself.
From 1965 Koman lived and worked on Hulda; an old cargo ship he bought and converted into a home and studio in the Swedish town of Drottningholm. For him and his growing family, this was to be their home for the next 28 years. In total four generations of Komans have lived on Hulda. Koman's daughter, Elif Koman-André, discussed with the Hürriyet Daily News & Economic Review her father's dreams, their family life, their aspirations for the boat, Turkey's recognition of Koman's work and why she believes her father would approve of the family's decision.
15 years on Hulda
Elif Koman-André lived on Hulda from the age of 3 until she was 18. She first saw Hulda when her father was restoring the old Swedish schooner. "I remember my father carrying me up a ladder into the boat when it was in a dry dock. I guess we must have moved in at about the same time. I had a unique childhood. Of course for me living on a boat was perfectly normal because I didn't know any other way. My whole childhood was different from my friends. My father was an artist, bohemian and Turkish. In mid-60s Drottningholm, I later learned that this was a very different way of living. Now I understand that it was a very unusual experience indeed. We spent the long summer holidays in the archipelago islands around Stockholm." This life has left Elif Koman-André with a deep passion for sailing and boats.
She is one of İlhan Koman's five children. As a young girl she went to the local school in Drottningholm, which had a total of 48 pupils. "My teenage years were spent surrounded by artists, my brothers and sisters and I didn't move onto solid land until I finished school and trained to be a teacher." She later married and had three sons of her own and is now a grandmother at the relatively young age of 47. Her younger brother Korhan Koman married and lived on the boat with his wife and three daughters. "You have to work all the time on Hulda. She is definitely part of the family but hard work. In the end the ownership issues were settled by starting the Koman Foundation."
Now working for a municipality south of Stockholm, running community development and human rights projects, she has time only for short visits to Hulda. How does she feel about her "home," so rich in childhood memories, moving so far away from her? "Well, my father described Hulda as his biggest work of art. He did everything he could by himself and sometimes complained that she took up too much of his time. She became the family's project in the end."
Family feels closer to father's birthplace
Hulda has been the family's focus for years, but Elif Koman-André said she was the journey to Istanbul as one her father would thoroughly approve. "This journey is nostalgic for all of us, but I think it is correct and it is the right development because now a lot of my father's work has been gathered in Istanbul. He is better known here in Turkey than in Sweden, so it seems appropriate. The Koman Foundation is a good way to handle the ownership of the boat. The whole family had a sort of farewell holiday on the boat this summer between festivals. There were 21 of us so it was crowded, but we had a wonderful time."
When asked what she thought her father would make of it all, she said he often had talked about making a big trip, but that it always remained just a dream. "It was never that easy because the boat would have needed so much preparation and the journey so difficult to plan and organize. It was occasionally spoken about but he just never got round to doing it." However, she does feel that the family's decision to bring Hulda to Istanbul has her father's tacit approval and explains why she believes this to be so. "I arrived [in Istanbul] on Sunday and went for a walk, not with any particular destination in mind. I walked through Taksim and wandered through the streets ending up in a part of town I didn't really know."
Elif Koman-André enjoyed telling this story from just a couple of days before. "I looked up to get my bearings and immediately saw through a window one of my father's sculptures. It was an enormous shock and wonderful surprise. I called my brother, Ahmet, and told him what had happened. He confirmed that the statue had been put there only 24 hours before, there in the Mimar Sinan University hall. I really believe my father led me there. His spirit then guided me to the best baklava shop. I inherited my father's love of sweet things."
Elif Koman-André said she believed that by bringing Hulda to Turkey it would make the family feel closer to their father's birthplace. "My sons want to come here, mostly for sailing," she said. "Now Hulda and my father's work is here in Istanbul we will always have the need to visit Istanbul and perhaps explore other parts of the country, too."

This news 18381 hits received.