Georgia finally releasing seized Turkish ships
Georgia has begun to release Turkish ships that it had forcibly detained. Following the release of the New Star, the Buket was released on Dec. 23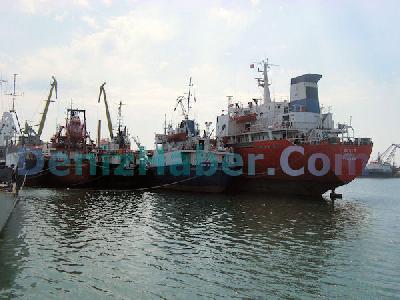 Georgia has begun to release Turkish ships that it had forcibly detained. Following the release of the New Star, the Buket was released on Dec. 23 and it is expected that the Densa Demet and the Med-k'nın will be released sometime this week. The status of the last Turkish ship in Georgia's possession, the Afro Star, is not yet clear.

More than 40 Turkish ships were seized between 1999-2003 and 22 between 2004-2006 by its northeastern neighbor, Georgia, who accused them of "trespassing in Georgian waters."
A workgroup was formed between Turkey and Georgia to negotiate the release of the Turkish ships forcibly detained by Georgia, and to prevent similar incidents from happening again in the future. The workgroup held meetings in Tbilisi, Ankara and Batumi since February 2010. It is now expected that as a result of the successful meetings between Turkey and Georgia, all the ships that have been detained will be returned to Turkey shortly. Thus, the long-standing crisis resulting from of Georgia detaining Turkey's ships will come to an end. This has been an important problem in relations between the two neighboring countries.
The forceful seizure by Georgia of Turkish commercial ships from İstanbul, Samsun and Trabzon occurred while they were en route to Abkhazia in the Black Sea. Turkey currently has a foreign trade volume of $100 million with Abkhazia and is involved with transporting food to Abkhazia, a project which is supported by the UN.
The Turkish ships were seized citing a violation of borders, but the incidents took place in international waters. When the ships were detained, their CSR devices, which are used for detection and location and must remain turned on at all times according to the Law of the Sea (UNCLOS), were turned off and reactivated after the ships had entered Georgian waters. Court cases were held in which the ships' crews stood before judges and were arrested citing "border violation," and ransoms were requested for the return of the ships. This seizure of Turkish ships in international waters has since become a commercial activity for Georgia.
The forceful seizure of the Turkish ships has been subject to various limitations by reasons involving both public law and private law. According to UNCLOS, the freedom to cruise is a legal right and the seizure of ships can only take place under specific circumstances. Furthermore, even in situations that allow for the seizure of ships, the immediate release of ships in exchange for a fee is an available option. These basic principles are accepted in UNCLOS and now exist in the national regulations of many nations.
In the last 20 years Georgia has seized approximately 100 sea vessels of Turkish and other origin, including fishing boats. For example, the seized ships Selim 1 and Şeker Baba were sold in Tbilisi in 2003. The Densa Demet and New Star were seized in April 2009 and the Buket was seized in August 2009. The Buket, which was seized outside of Georgian waters, was initially taken to the port of Poti and then to Batumi in order to be sold. In 2009, the ship's captain, who had been sentenced to 24 years in prison, was released following Turkish Foreign Minister Ahmet Davutoğlu's visit to Georgia on Sept. 4, 2009.
Georgia's seizure of ships bound for Abkhazia through the Black Sea is a result of Georgia's political problems with Abkhazia, which is officially (de jure) a part of Georgia, but has been de facto independent since 1991. This practice by Georgia affects trade in the Black Sea negatively and damages relations between Turkey and Georgia; it also raises questions about the legality of such acts. Georgia's decision to end the forceful seizure of Turkish ships in international waters is a positive development in terms of stability in the Black Sea region.
M/T Buket, Afrostar, Newstar1, Densa Demet lies together at Poti port (Photo courtesy of www.denizhaber.com)
This news 15548 hits received.