A 45-vehicle convoy with 90 participants from around 30 countries arrived in western Turkey on Monday.
The convoy, headed by British MP George Galloway, is organized by Viva Palestine Movement and it is ready to deliver humanitarian aid to Gaza.
Ron Mckay, the team leader of Gaza Europe Convoy, said they would visit the families of the nine Turks killed in Mavi Marmara ship. He said they expected Egyptian government to assist them in shipping the aid to Gaza.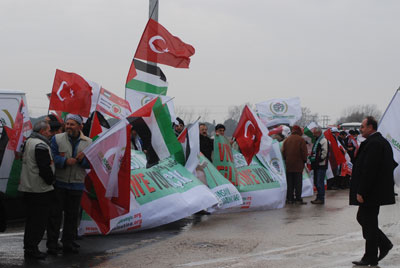 The convoy, headed by British MP George Galloway,
The convoy will depart from Turkey on October 1 and proceed to Syria.
Ahmet Emin Dag, the Deputy Chairman of the IHH Humanitarian Relief Foundation said: "The goal of the convoy is to ship humanitarian assistance to the Palestinians and to attract the attention on the ongoing humanitarian tragedy there."
The convoy is hosted by the IHH Human Rights Foundation, which was responsible for ill-fated Gaza flotilla, which was intercepted violently by Israel this summer on another mission to deliver humanitarian relief to the walled-off Gaza strip.
Carrying aid items such as medicine and food, the convoy took off from England on September 18th and includes vehicles from as diverse countries as America, New Zealand, Italy, Malaysia and Jordan, as well as other countries.
After five days of traveling through Turkey, the convoy will move on to Syria, where it will transfer to ships and travel to Egypt, and proceed to enter Gaza via the Refah border gate. The convoy is expected to arrive in Gaza as of mid-October.
A total of 150-200 vehicles are expected to join the convoy along the way by the time they reach their destination.
On Tuesday, the convoy will tour through the European side of Istanbul, passing through central locations such as Taksim square and Besiktas harbor.