First chinese built, owned and crewed ship managed by UK company
UK-based Graig Ship Management has taken delivery of the 79,600DWT bulk carrier 'King Peace', for which it is providing full technical management and crewing on behalf of Shanghai-based Zhong An Shipping, Baird Maritime reports.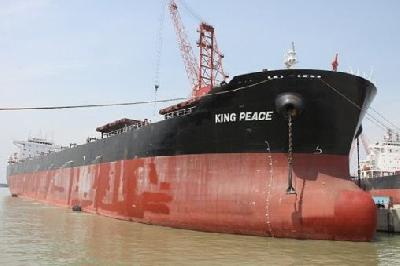 79.600 DWT Bulk-Carrier KING PEACE
Cardiff, U.K., based Graig Ship Management Limited has taken delivery of the 79,600 dwt bulk-carrier King Peace. It is providing full technical management and crewing of the ship on behalf of Shanghai-based Zhong An Shipping. The vessel was built at China's Wu Jia Zui Shipyard under the supervision of Graig China Ltd.
Ian Morgan, CEO of Graig Ship Management, says, "This is an important new contract, because it is the first for us as a UK ship manager to manage a Chinese-owned, Chinese-built and Chinese-crewed vessel. It makes a lot of sense, we know the ship inside out because we helped build it, we know bulk carriers and we know China. China is a massive market for maritime expertise and we see this as a first step to a growing business becoming a local ship manager for Chinese owners."
Managing ships for Chinese owners is a logical step for Graig, which began business in China in 1995, building ships there for itself, then building up expertise in newbuilding supervision and Chinese yard capabilities to help other Western owners to get the best out of China. The next step was to help Chinese yards with new designs, such as the Diamond bulk carriers, and to supervise newbuildings for Chinese owners.
Twenty-two of Graig's current newbuilding supervision contracts are for Chinese owners, a series of eighteen 76,000 dwt bulkers being built at Jiangsu Rongsheng for Minsheng Financial Leasing Co. and four 45,000 dwt bulkers for Shanghai Xiang An Electric Power Shipping Co. being built at Chengxi Shipyard.
"We hope to build on this expertise in China to help more Chinese owners to build good ships and manage them efficiently in the global marketplace," said Mr. Morgan.
This news 12845 hits received.