Cruise ship Costa Classica has collided with a cargo vessel at the mouth of the Yangtze River. The Shanghai Daily is reporting that the ship suffered a long gash in its side and several passengers were injured. Three have been transferred to hospital ashore.
The ship reached its berth safely, but a cruise to Japan, Korea and Hong Kong due to begin today has been cancelled.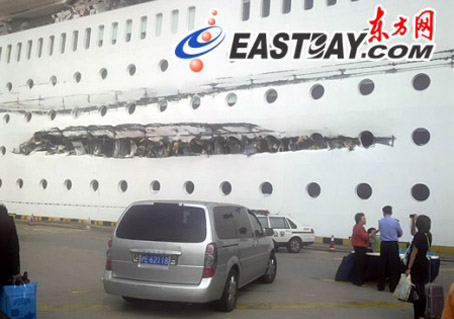 The accident happened at 4:45am as the ship was heading into port. The other vessel involved was the 86,848-ton Belgian-registered bulk carrier Lowlands Longevity, which was travelling in the same direction.
The 1,311 passengers, mainly Asians, but with some American and Canadian, were summoned to their emergency muster stations and the ship docked at 10 a.m.
A statement from Costa's head office in Italy says: " After the incident a few guests reported to the ship's medical staff for minor injuries. Upon arrival of the ship in Shanghai three of them were sent ashore for further medical checks.
"Costa is very regretful that this incident has occurred and is working closely with Marine Safety Administration of Shanghai to fully investigate this matter.
"The original Shanghai-Japan-Korea- Hong Kong voyage scheduled to depart on October 18 has been cancelled. Costa is sorry for any inconvenience caused to passengers as a result."
Seatrade Insider is reporting that local media outlets show a gash stretching about 20 metres along the starboard side of Deck 5 midships, one deck above the lowest level of cabins and well above the waterline.
The outlet also reports the Costa Classica suffered a power failure, although it is not clear whether this happened before or after the collision.
The vessel had been in the news earlier today after a bizarre incident at the last port of call in South Korea, where 44 passengers jumped ship.
Police traced 11 to two hotels on Chejudo island, but the other 33 are still missing and are thought to be attempting to emigrate from China illegally in search of jobs in the resort.
The 30 male and 14 female passengers failed to return from an excursion and police discovered that although they had taken luggage with them they left their passports on the ship, which left the port as scheduled yesterday afternoon.
A local immigration office spokesman said "As soon as we find all of them, they will be deported."