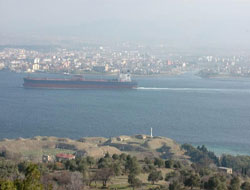 A Belizean-flagged ship broke down when it was crossing through the Canakkale Strait on Sunday.
The cargo ship "Roksolona 2" broke down when it was travelling from Greece to the northwestern Turkish city of Izmit.
The crew repaired the breakdown, however, the ship would be anchored at Karanlik Port and would set sail after required procedures were completed.