Today, more than 80 percent of world trade is carried out by sea, and besides the rapid increase in the number of ships, there is a need for many seafarers to work on the ships.
In this situation, many women in the world have stepped into the maritime profession.
A large number of female personnel work on large and small ships navigating the world's seas. In our country, the pioneer in the training of female seafarers was the Department of Maritime Transportation Engineering at Istanbul University in the academic year of 1991/1992. Izmir Dokuz Eylul University Maritime Faculty in 1997, Istanbul Technical University Maritime Faculty and Cyprus Near East University Maritime Faculty in 1997, and Karadeniz Technical University Sürmene Marine Sciences Faculty in 2001 removed the requirement to be a male in the application conditions.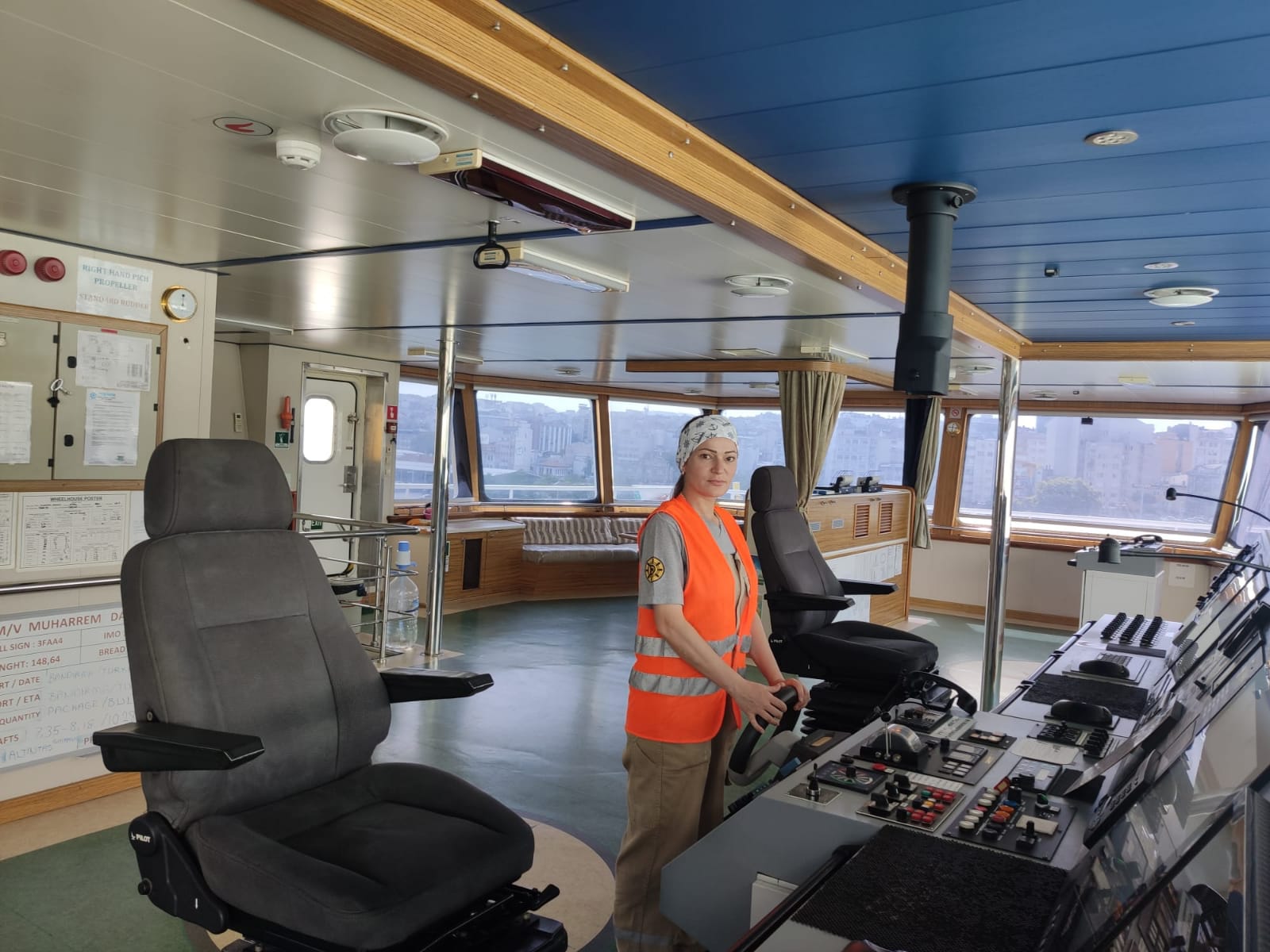 After that, many of our girls graduated from Maritime Faculties and started to work in maritime as a captain and engineer as a male profession. In 1999, with the initiatives of Captain Muzaffer Akkaya, General Manager of Turkish Maritime Enterprises, and Captain Saim Oğuzülgen, Deputy General Manager, they signed a principle and the breaking of taboos by appointing a Turkish female captain, Esra Ulutürk Dinç, for the first time on passenger ships of the Maritime Administration.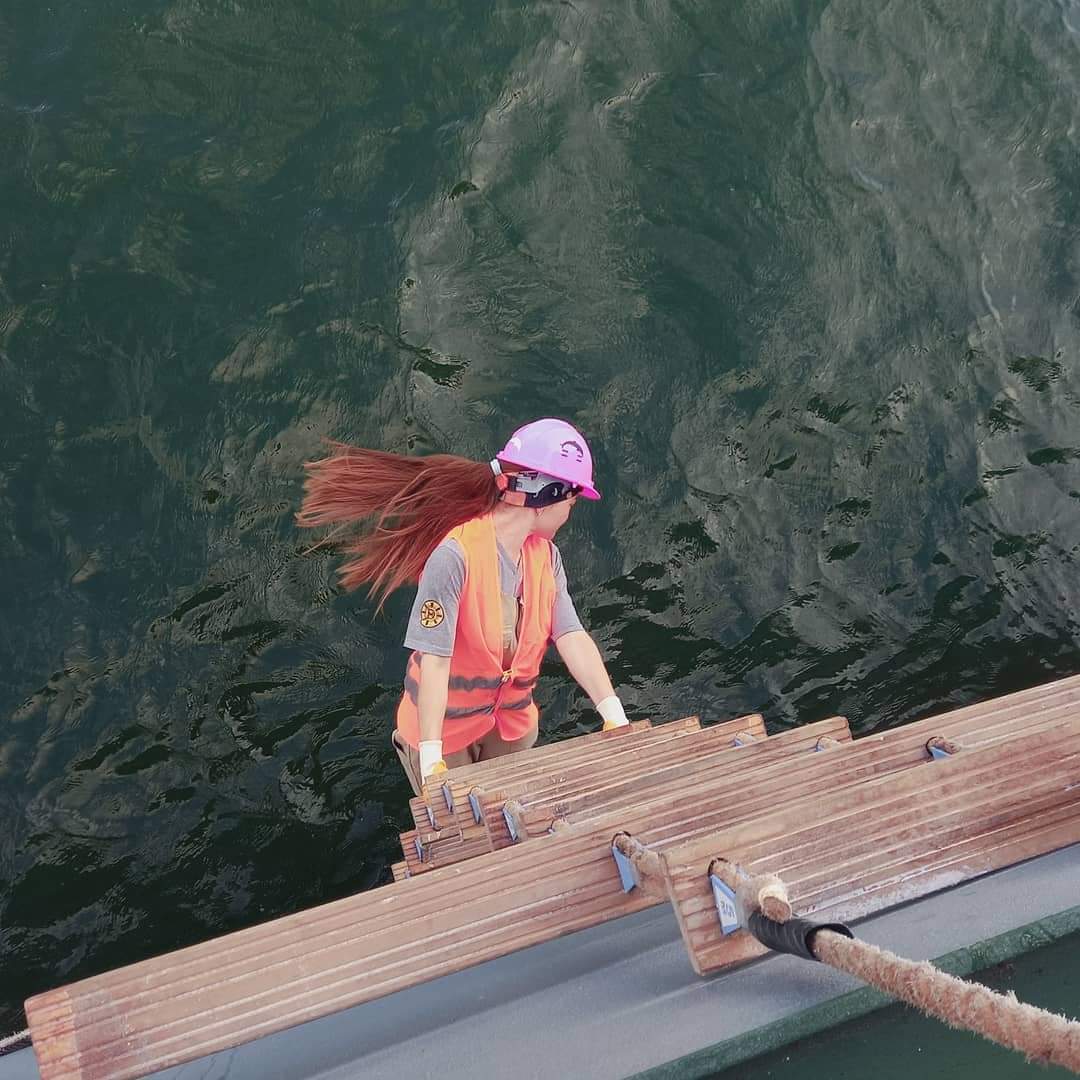 Mehtap Karatepe is a 36-year-old mother of two, who entered the maritime profession, which was her childhood dream, after working in the health sector for 11 years.
While there are women who work as captains and mechanical engineers on ships in Turkey, when she learns that there is no Turkish woman working on the deck department, she thinks of working on the deck department, and sets sail for the first time after the course she attended.
Black Sea in the days when the corona virus threatened the world. Marmara. Aegean Mediterranean. Between the Atlantic Ocean and the Baltic Sea. It circulates for 16 months. On the deck of the ship, painting and scraping with hammer, known as men's work, takes part in many repairs on the steel hull of the ship.
Thus, Mehtap Karatepe becomes the first Turkish ship crew to work on cargo ships.
At the same time, Mehtap Karatepe, who is the only woman on the ship she works for, tries not to make her work because she is doing this job, which was considered a man's job because it was heavy and difficult, because men think that she will quit this job in a short time and even get off the ship at the first port.
However, Mehtap Karatepe works stubbornly to succeed. In the face of Mehtap Karatepe's work, they give up their thoughts and begin to see her as a part of the ship.
When they see that she loves his job and that he succeeds, they love and respect him, but they do not hesitate to call him Mahmut.
Before starting the profession, she answers those who say, "Can a woman become a sailor," by getting the "Master Sailor" document on his return from the voyage.
Before Mehtap Karatepe sailed again, she started a legal struggle to write "Sea Person" instead of "Seaman" written on the "Seaman's Wallet", which has international validity. It sends its application to Ankara via CIMER. It applies to the Ministry of Transport and Infrastructure, General Directorate of Maritime Affairs, and submits the file it has prepared to the authorities. Mehtap Karatepe explains this thought with these words: The phrase written on my wallet in the ports I go to causes a lot of criticism. The expression "Seaman" does not suit our age. London-based IMO (International Maritime Organization) is working in this direction. On May 18, International Women's Day, the concept of the Seaman will come to the fore around the world. I've been trying to introduce the concept of ship's people in our country until this date, as a positive development, I was able to write "Seafarer" Sailor on my wallet. Even if there is no change in the legislation yet, it is a big step to write "ABLE SEAFARER DECK" together with being a Master Seafarer while writing "Seefarer" in the qualification section of the Seafarer's Wallet.
Mehtap Karatepe was born on March 03, 1985 in Nevşehir. They are four sisters. When her sister, who is five years older than her, starts primary school, she learns to read and write by looking at her sister's books. She starts Primary School at the age of 5. He is loved by his teacher in the Primary School, becomes the class chair, presents the event in the ceremonies held at the school on holidays and important days and reads poems. He is ambitious, determined. While studying in the 4th and 5th grades, she becomes a full scholarship student in a private course. She takes the Anatolian High School exams, gets a high score, but does not go to Anatolian High School, being proud of not being the first in the province, she goes to the Middle section of the Imam Hatip School. When the Middle School is over, she takes the Anatolian High School exams again, and as a result of the exam, she becomes the 2nd in the province. And she enters Anatolian High School, but she cannot continue  school life due to a health problem. Meanwhile, her age is increased by 2 years and she gets married. She has a son and a daughter from this marriage. She lives in a problematc marriage, and his wife and he separate because they are not old enough to bear the responsibility of marriage. She has no job, no money in his pocket. She goes to Antalya to hold on to life with the longing of her 2 little babies. She is thrown into a difficult life without asking for support from anyone.
She takes a quote from Winston Churchill as his guide: "If you want to conclude your performance successfully, you have to put your head in the mouth of the lion."
Se sets out by trusting God first and then his heart. Despite the pain, she looks for a job, relying on his hopeful heart and the little English he learned at school. Finds a job in the tourism industry. Now she has a place to sleep and a meal to eat. As a result of her work, he becomes a little stronger economically, and she takes the responsibility of his children and siblings. She has a very bumpy life, and he manages to rise from his own ashes at every unfavorable time. While she is looking for a job in the field of health while he completes his vocational training, a former employer offers him a seasonal job in Bursa Uludağ. She goes to Uludağ without giving up looking for a job in the field of health and moves to Bursa. There she finds the job she is looking for. She starts working as an assistant alongside physiotherapist Reyhan Şanlıer. Reyhan Şanlıer had great teachings for Mehtap Karatepe about her profession, management and leadership. As a result of this, he becomes a manager in the institution she works for and then a Manager in the Company. This work lasts for 10 years and as a result of this hard work, her tired heart wants to rest.
She has an operation due to a heart condition. After regaining his health, she says hello to a new sector, starts working in the Marble Sector and moves to Istanbul. She works in this sector for a total of three years, both at home and abroad. While all these processes are going on, their siblings grow up, their children grow up, they have puberty problems and they overcome them. Their children and siblings graduate from high school and then become university students. Today they are all in a good place and have happy, hopeful futures.
When she goes to Antalya, she meets the sea, falls in love with the sea, that blue of the sea every morning, she enters the sea before the sun and says good morning to the sun through the sea.
After all, these times are between childhood and youth at the age of 17. She looks at the ships passing by at sea, asks himself what is the ship doing, wonders what is done on the ship, watches with admiration, the glides of the ship on the water, from those years to these days, she has never left the sea for 20 years, the day she was unhappy, the day she was happy, in every emotion she always felt at the seaside. finds. It was always that vast blue that shared her feelings. She wants to go to a foreign island as a tourist, and as a result of a misunderstanding, her passport is confiscated for two days. Where she goes, she waits for the Turkish ship to come. She gets on the ship, which is accepted as Turkish soil. She is a guest on the ship for one day. The captain of the ship also has long conversations about maritime with the ship owner and crew. After saying good morning to the crew in the morning, they say I will be a sailor and everyone laughs with this promise. When she returns to Istanbul, she conducts research on how to become a sailor. She learns the details of how to become a sailor. As she learns, she becomes sure of the reality of the emotion she feels on the ship. She doesn't want to use a boat on her boat vacations with his friends, she is happy to see female yacht captains in the bays he goes to. She learns that there are different branches of maritime and decides to become a ship captain. She had a long and grueling road ahead of him. The first hurdle was a high school diploma. Then she says that it is necessary to start from the ground up and says that I should become a well-equipped captain by starting as a sailor, gaining experience by cooking in the kitchen of the job and adding training to it. Despite all the negative thoughts, despite the fact that there are no female sailors in Turkey and the shipowners do not want women to work in the profession, she starts both maritime and open high school education. She learns a lot from Cem Tanrısever in the Bilimsel Maritime Course.
After the sailor's training is over, she starts looking for a job and cannot get a positive response from the companies he applied for. Meanwhile, the Corona virus epidemic, which is the scourge of the whole world, began. As in our country, life all over the world had come to a standstill. She could neither work nor work part time. She spends this period with his brother in Antalya.
During this period, he learns that a close relative knows a shipping company and that it is a good company. She asks them to talk to the company, their relatives talk, and sends their resume to the company. Positive answer comes from the company, when she learns that she was hired, she loses himself in the middle of the road, falls on his knees, sobs, raises his hands to the sky and prays to God. On May 18, 2020, she receives his delivery note. Due to the busyness of the work in the port, the ship will embark on 22 May 2020. Now was the time to make your dreams come true. It starts with the excitement of a child starting primary school. There is no end to learning Maritime, which is like an ocean with no bottom.
As he studies, he learns about maritime, and as he learns, he becomes connected to maritime with a love. She has two years of ship life. Despite this, she is at the beginning of the road in terms of maritime. She is eager and hungry to learn. As she learns, he gets excited like exploring the depths of the oceans.  Mehtap Karatepe understands that in this period, learning Maritime, which is a bottomless sea of ​​knowledge, is difficult, but a joyful event.
First, she recognizes the ship and learns its operating system. It was a great chance for her to work with selected people with the family atmosphere created by Mehtap Karatepe, a beautiful family company, in a sector where the mentality of women cannot be a sailor. These people did not find her strange, they did not exclude her, and they made an effort to learn sailing with all their strength. In this process, while working as a sailor, she works as a trainee student on the bridge in her spare time. Her employers, Captains and Deck Officers try to teach her their professional knowledge as best they can, given her perseverance and willingness to learn. In addition, the Chief of the Deck and the Master Sailors compete with each other to convey their knowledge and experience about the work to be done on the deck.
Again, in her spare time, whenever she finds time, she goes down to the engine room and gets information about the operation and maintenance of the machines at the Engine Officers. In short, she learns that if the brain of the ship is on the bridge, its heart is its machines.
Every time she works on the ship, every job she does, every new information she learns makes him more excited. When working with such passion, what sailors fear most happens to them. 01 March she loses her father and learns the news of his death 2 days later on his birthday and shares his pain with the sea.
Working with both the bridge crew and the deck crew, she is connected to the blues with an increasing passion every day to gain experience and learn. Her next route is to finish the high school she studied abroad and to complete one of the maritime schools for the master mariner. Step by step, she is walking towards his goal with determination.
Mehtap Karatepe's life has such ups and downs and successes. She falls in love, hits the bottom, rises to the skies, but he lives every emotion and every moment of life to its fullest.
She respects and loves the company officials who made Mehtap Karatepe's dreams come true and opened this bright path for her, and always remembers them with gratitude.
My wish is that this initiative does not stay with one person, and that more female Seafarers serve on our ships in Turkey.
To Captain Muzaffer Akkaya, General Manager of Turkish Maritime Enterprises, and Captain Saim Oğuzülgen, Deputy General Manager, who broke new taboos by assigning women seafarers to work on their ships. As sailors and maritime lovers, we all owe a debt of gratitude to the Dadaylılar Maritime Group, which assigned a female seafarer to work on their ships in 2020.