7th Istanbul Bunkering Conference started
7th International Istanbul Bunker Conference took start yesterday at the Istanbul Four Seasons Hotel.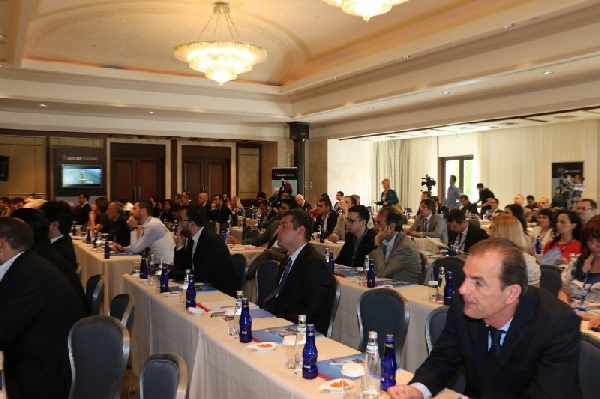 CONFERENCE PROGRAMME
Chairman of the Conference: Mr Robin MEECH
20 May 2015
-WEDNESDAY
18:00-21:00
WELCOME COCKTAIL(Sponsored by "FORCE BUNKER")
21 May 2015
-THURSDAY
08:00-09:30
DELEGATE REGISTRATION & MORNING COFFEECONFERENCE OPENING & SESSION 1(Conference hall is sponsored by "SOCAR MARINE")
09:30-09:45
WELCOME SPEECHAli Deniz ERAYDIN, Chairman, Turkish Bunker Association
09:45-09:55
OPENING SPEECHEmre DİNÇER, Ministry of Transport, Maritime Affairs and Communication.
09:55-10:05
TURKISH CHAMBER OF SHIPPINGMetin KALKAVAN Chairman
10:05-10:30
WINDS OF CHANGERobin MEECH, Managing Director, Marine and Energy Consulting
10.30-10.50
COFFEE BREAK(Coffee breaks are sponsored by "PO MARINE")
10:50-11:10
BUYING & SELLING BUNKERSMarinos ARGYROUDIS, Senior Trader, World Fuel Services
11:10-11:30
SELLING BUNKERSCem SARAL, Cockett Marine Fuels
11:30-11:50
SUPPLYING (confidence & transparency)Claudia BEUMER, Marine Business Development Manager, EMERSON
11:50-12:15
COFFEE BREAKSESSION 2
12:10-12:25
QUALITY - what's happening at the IMOUnni EINEMO - Managing Editor, Petromedia Group
12:25-12:50
SHIPPING MARKETS & ECONOMICSProf. Dr. Oral ERDOĞAN, Rector, Piri Reis University - Istanbul
12:50-13:05
CREDIT IN BUNKERINGCan BESEV, Business Research & Development Manager, Peninsula Petroleum Ltd
13:05-13:20
EVALUATION OF OW BUNKER INCIDENTMatt CAPE - Petromedia Group
13:20
LUNCH(Sponsored by "ERDEM PETROL")
15:00-18:30
BOAT TRIP(Sponsored by "DEW MARINE LUBRICANTS")
18:30-21:30
DINNER
22 May 2015
-FRIDAY
09:00-09:30
MORNING COFFEESESSION 3
09:30-09:55
LOW SULPHUR BUNKERChris FISHER, Marine Engineer, Brookes Bell Marine Consultants
09:55-10:20
LNG BUNKERINGNigel DRAFFIN, Technical Manager, LQM Petroleum Services
10:20-10:40
SHIP EFFICIENCYProf. Dr. Mustafa INSEL, CEO, Hydrotechnic Design Technologies
10:40-11:00
LOW SULPHUR EFFECT & SCRUBBERSDr.Priya Visweswaran - Director, Viswa Lab
11:00-11:20
COFFEE BREAKSESSION 4
11:20-11:40
SHIP BUILDING TECHNOLOGIESSevnur ÇAKMAK, GISBIR (Turkish Shipbuilding Association)
11:40-12:00
TURKISH STRAITS (TRAFFIC CONTROL)Capt. Sami GÜREL, VTS
12:00-12:20
TURKISH BUNKER MARKET STATISTICSMehmet ÖZCAN & Mehmet KÜRKÇÜ, EPDK (Energy Markets Regulatory Authority)
12:20-12:40
JURISDICTION IN BLACK SEA PORTSArthur NITSEVYCH, Interlegal Law Firm
12:40-13:00
CLOSING REMARKS
13:00
LUNCH
This news 10485 hits received.