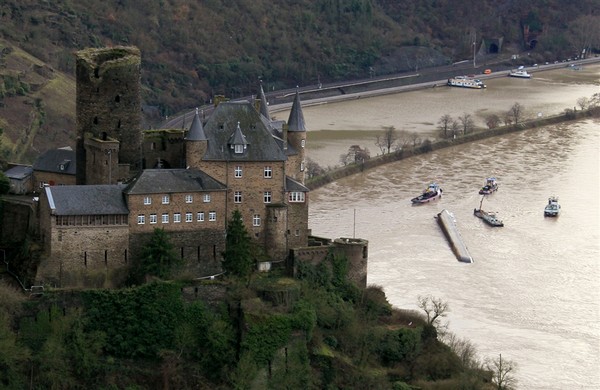 St. Goarshausen, Germany - German officials cautioned Friday that it would take several more days before rescue workers can begin to salvage a capsized barge carrying 2,400 tons of sulphuric acid from the scenic Rhine river gorge.
Some acid apparently leaked from the barge when it capsized, according to a spokesman for Germany's federal waterway science agency BfG, despite earlier claims to the contrary.
The rescue procedures could take several weeks, authorities said. The site of the accident remained closed Friday, blocking the onward passage of more than 100 vessels using the waterway.
High water levels also made it difficult to continue the search for two of the four crew members, who disappeared when the vessel sank on Thursday. The chances were dwindling of finding the men alive, said a spokesman for the federal waterways office.
It was not yet known what caused the barge to capsize near the Lorelei, a rock generating a fierce eddy which has wrecked many boats, giving rise to the legend that it was haunted by a female ghost whose siren song lured men to drown.
Two crew members were rescued with minor injuries.
The BfG said that, hours after the accident, slightly lowered water pH values were registered downstream, in the city of Koblenz. Although sulphuric acid is highly aggressive, they said the effect was negligible and pH levels had returned to normal a few hours later.
The 96-per-cent acid was rated slightly harmful to water, according to a spokeswoman for BASF chemical company.
The wreckage was secured to the riverbank using wire cables, and is to be more securely attached to the riverbed to protect it from further floodwaters.
Rescue operators planned to rotate the vessel, which is lying on its side, in order to stabilize it and tow it away, or at least safeguard the freight, a municipal government spokesman said.
Four cranes were due to arrive in coming days to begin the rescue work.
'If all goes well, the freight can be preserved,' the spokesman said. However he said they were also considering proposals to release the acidic contents into the Rhine in a controlled manner.
High water levels made it dangerous for divers to continue looking for the missing crew members, and prevented rescue workers from continuing their search inside the barge.
Emergency services planned to fly over the vessel in a helicopter equipped with a heat-sensitive imaging camera, but had little hope of spotting life signs.
It was also difficult to continue the search downstream, as the river had already broken its banks in several places after recent rains and snow melt, the municipal spokesman said.