Sewol Disaster: 284 people still missing
The "Sewol" sank in 30 meters of water off Jindo Island, South Korea after striking an underwater rock near Gwanmae Island.
The vessel remained afloat for eight hours before it finally rolled over and sank.
The vessel took 18 minutes after the initial grounding before it sent out a distress call. The crew during this time urged passengers to stay calm, but not to prepare to evacuate the vessel.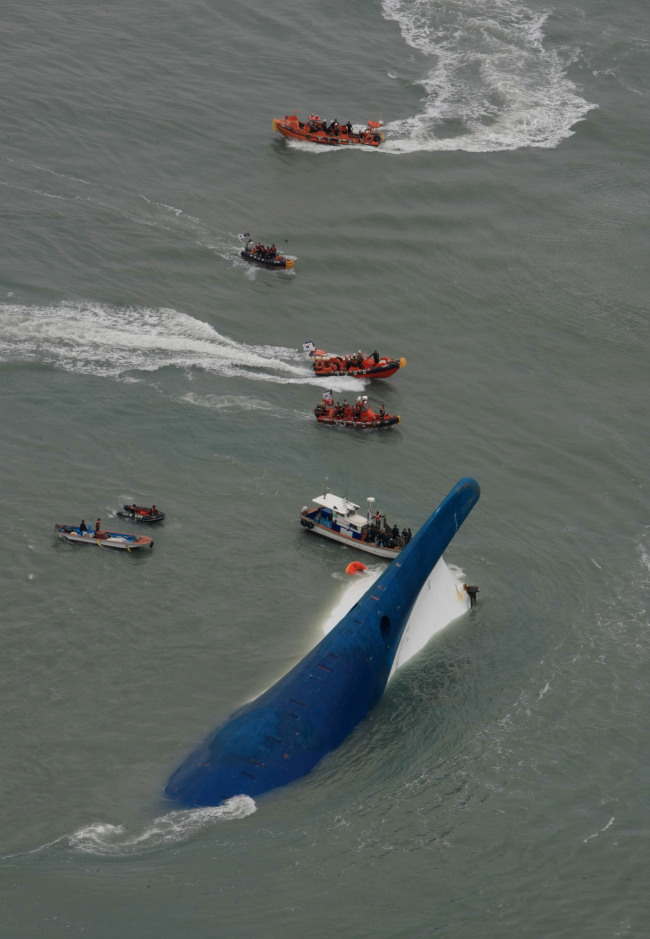 Ferry 'Sewol' sank to the bottom within 3 hours after it called out mayday at about 8:55a.m.
Some rescued passengers who had been below deck told that even while the ship was tilting, they were told to stay in their seats.
People in the ferry's cafeteria and game room, below the main passenger decks, might not have escaped.
Passengers tripped and bumped into one another and luggage was tossed about as the ship leaned deeply and water came in. They jumped into the water in life jackets and swam to fishing boats nearby. A 27-year-old female crew member was found dead in the water, and a male student died while being treated at a hospital. Two other male victims were later found; further details were not immediately available.
A total of 174 passengers and crew members were known to have been rescued; given the known deaths, that left 284 of the 462 people on the ferry unaccounted for, of which 244 were high school students.

Vessels of the Navy, private ships and other fishing boats are approaching the ferry 'Sewol' as respondents
Among the passengers were 325 students from Danwon High School in Ansan, south of Seoul. So far, 75 of them are known to have been rescued. The students were on a four-day school trip to Jeju Island. Divers started exploring the sunken vessel fearing that many on board were trapped below deck.
The cause of the accident was not immediately clear. The passengers said that the ship had begun leaning severely after a loud impact. The ship later capsized and sank, with only its bulbous bow protruding from the water.
The search efforts of the Coastguard resumed about 12:30 a.m. on Apr 17(11:30 a.m. ET Apr 16) after a several-hour delay. Water temperatures, swift currents and low visibility appeared to be complicating the massive rescue operation, which involved dozens of South Korean military divers, sailors, marines and police officers.
An 82-member Ship Salvage Unit (SSU) and 114 elite navy SEAL divers raced to the site. About 5 p.m.LT a team of South Korean Navy divers succeeded in entering the sunken vessel and searched three of its compartments, but found no bodies. Ocean currents were flowing at a speed of 8 km per hour. Wave were half a meter high. Water temperature was 11.7 Celsius degrees and underwater visibility poor at 20 centimeters.
The ferry possibly had not been following the normal route to Jeju trying to save time lost due to fog but took a short-cut. The "Sewol"'s captain was acting in the role and it was unclear whether he was familiar with the voyage route. Waters where the "Sewol" sank are known for strong tides, and there are many submerged rocks. Officials will question crew members, including the captain, about their compliance with safety measures.

Parents of Danwon High School in Ansan, Gyeonggi Province are eagerly trying to see the list of confirmed survivors. 325 students were on board of ferry 'Sewol' for their trip to Jeju island.

Survivors of sunken ferry 'Sewol' are boarding a bus that headed to a hospital