Fuel worth $400,000 stolen from hijacked bunker tanker 'Arowana United'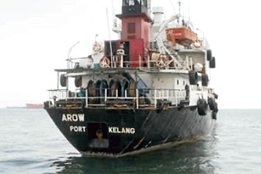 Arowana United had its named painted out to be just "Arow"Bunkers worth some $400,000 were stolen from a bunker tanker after it was hijacked in East Malaysia earlier this month, reports on Thursday have revealed, Ship & Bunker reports.
Malaysian registered Mt Arowana United, owned by Vast Alliance Sdn Bhd, was found after five days near Pulau Natuna, Indonesia with her eight crew members, but not its cargo of 650,000 litres of marine fuel. On October 14, 2012 Mt Arowana United was docked at the Labuan inner anchorage in preparation to bunker a vessel on October 19, 2012.