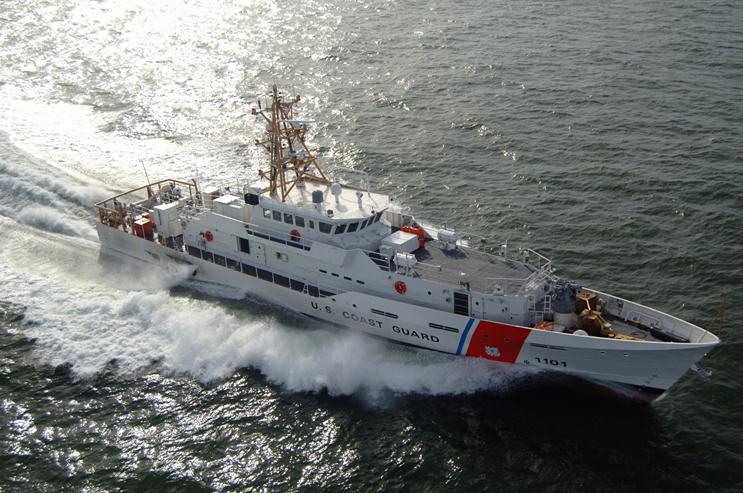 Bollinger Shipyards, Inc. has delivered the WILLIAM FLORES, the third Fast Response Cutter (FRC) to the United States Coast Guard.
The announcement was made by
Bollinger executive vice president of new construction, Chris Bollinger
, "We are very pleased to announce the delivery of the WILLIAM FLORES, to USCG Sector Miami. We look forward to the vessel's commissioning, honoring William "Billy" Flores."The 154 foot patrol craft WILLIAM FLORES is the third vessel in the Coast Guard's Sentinel-class FRC program. To build the FRC, Bollinger Shipyards used a proven, in-service parent craft design based on the Damen Stan Patrol Boat 4708. It has a flank speed of 28 knots, state of the art command, control, communications and computer technology, and a stern launch system for the vessels 26 foot cutter boat. The FRC has been described as an operational "game changer," by senior Coast Guard officials.The Coast Guard took delivery August 15, 2012 in Key West, Florida and is scheduled to commission the vessel in Tampa, Fla. on November 3, 2012.Each FRC is named for an enlisted Coast Guard hero who distinguished him or herself in the line of duty. This vessel is named after Coast Guard Hero, Seaman Apprentice William Ray "Billy" Flores, who gave his life to save his shipmates after a collision between the Coast Guard Cutter Blackthorn and the 605-ft. oil tanker Capricorn in 1980. He was posthumously awarded the Coast Guard Medal for heroism.