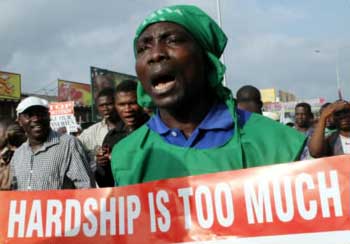 NIGERIA's general strike over the doubling of fuel prices, that closed the country's ports and much of its transport, has been ended by the Nigeria Labour Congress and the Trade Union Congress.

Already defying a back-to-work court order, the latest union decision follows a compromise of partial fuel subsidy, reports London's Containerisation International. With the strike over, the ports are expected to take several days before backlogs are cleared and operations return to normal.

Carriers that have suspended calls in Nigeria, such as CMA CGM, are expected to continue discharge elsewhere, typically Lome and Abijan until turnaround efficiency is restored, said the report.

Maersk Line, which has had eight ships anchored offshore, has re-routed two ships with the least amount of Nigerian cargo. "One vessel had been due to unload at Apapa and the other at Onne and we sent one to Lome and earmarked the other to discharge at Abidjan," said Maersk's West African trade chief Sonny Dahl.

Of the present situation, Mr Dahl said: "Of course it will take some time to clear the backlogs and get the operations back to normal, but we are in a good position to sail our vessels in when the terminals are ready."

After days of holding out, Nigerian President Goodluck Jonathan relented, saying fuel prices would be cut 30 per cent. "Given the hardships being suffered, and after due consideration and consultation with state governors and the leadership of the National Assembly, the government has approved the reduction of the pump price of petrol to NGN97 (US$0.59) per litre," President Jonathan said.

While it represents a substantial cut from NGN140 per charged since January 1, but still much more than the NGN65 per litre price last year. Unions demand the old price.